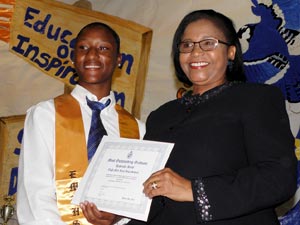 Remaining top graduating seniors on Grand Bahama Island received their Top Achievers scholarships from The Grand Bahama Port Authority, Limited (GBPA) as commencement exercises on the island drew to a close.
As expressed by GBPA's Director of Community Relations, Geneva Rutherford, "It is a delight to be able to present such awards to these students in recognition of their hard work in the pursuit of excellence.  Additionally, the expressions of gratitude and appreciation we've received in return underscore the significance this contribution plays in the lives of many families on Grand Bahama."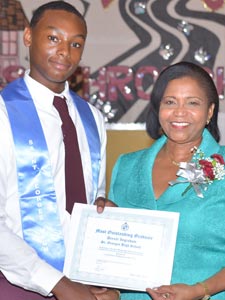 Rounding out the roster of recipients were top achievers from Eight Mile Rock High School, St. George's, and St. Paul's Methodist College.  Kadeisha Hield, valedictorian from Eight Mile Rock, quoted former American politician, W.J. Bryan, "Destiny is not a matter of chance, it is a matter of choice". She encouraged her peers to have the right mind-set, continue to set and strive for new goals and to remember that their future is not determined by past mistakes. Having sat 8 BGCSE's, Kadeisha received 8 special awards during the passing-out ceremony.
Drexel Ingraham, valedictorian and Deputy Head Boy at St. George's attained a 3.94 GPA.  This honour roll student has already passed numerous BGCSE's including an A in mathematics. He was presented with a host of awards including the Valedictorian's, Principal's, Iris Williams Mathematics, Cecil Hepburn Geography, Gary Davis Music, Leadership, Marine Biology and GBPA Top Achievers.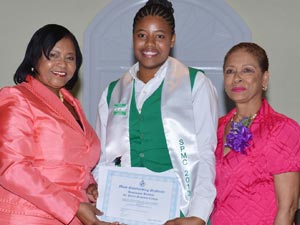 St. Paul's valedictorian, Dominique Bartlett has her eyes set on a career in Paediatric Oncology and begins studies at the College of The Bahamas in the Fall courtesy of her GBPA scholarship.  Already a recipient of 5 BGSE's  and pending results from 5 more, she hopes to fulfil her graduation theme of 'Striving Purposefully Toward Our Goal'.
As noted by Rutherford, so many of the achievers not only excel academically but are also actively involved in civic and athletic pursuits.  "They are truly well-rounded young individuals, which is highly regarded and bodes well for them as they begin post-secondary studies at colleges locally or abroad."
The Grand Bahama Port Authority, Limited
Captions: Photo EMR: BLUEJAYS' PRIDE: Eight Mile Rock High School valedictorian, Kadeisha Hield smiles proudly as she accepts her GBPA Top Achiever scholarship from GBPA's Director of Community Relations, Geneva Rutherford.
Photo St Georges: WELL DONE: Geneva Rutherford, Director of Community Relations, GBPA congratulates St. George's High School's Deputy Head Boy, Drexel Ingraham, for his outstanding achievements.
Photo St Pauls: GBPA TOP ACHIEVER RECIPIENT: Valedictorian of St. Paul's Methodist College, Dominique Bartlett is flanked by GBPA's Director of Community Relations, Geneva Rutherford (left) and school principal, Lynn Glinton (right).