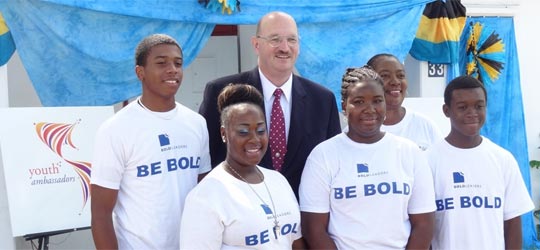 On Saturday, June 29, U.S. Chargé d'Affaires John Dinkelman and other officials from the U.S. Embassy attended the opening of the Youth Ambassadors Enrichment Fun Day, held at the Marina Glinton Community Center.
The objective of the exciting event was to engage young Bahamians and their families from the inner-city communities of Bain and Grants Town in a positive recreational setting.
The seminar was organized by The Bahamas Red Cross in coordination with alumni of the first cohort of the U.S. Embassy's Youth Ambassador Program – Jeremy King of St. Anne's School; Answell Johnson, of Government High School; Lonelle Sweeting, representing Temple Christian School and Christina Mounts, of Queen's College along with chaperone Claudette Thompson.
The Youth Ambassadors Program is a three-week exchange in the U.S. for high school students and adult mentors. The primary program themes are civic education, community service, and youth leadership development.  Participants engage in leadership and civic education workshops and community service activities with their American peers.
Participants return home with action plans to bring their exchange experience to their home communities in the form of a wide range of community service projects.
Following their exchange in the U.S. in February 2013, The Bahamas' Youth Ambassadors returned to Nassau and designed and implemented the "Youth Enrichment Seminar and Fun Day," a community-based project using the principles learned during their three-week leadership training.
In his remarks, Chargé Dinkelman encouraged the young ambassadors to continue to be a catalyst for continued growth, innovation and success to propel The Bahamas forward and pave the way for future generations. Representatives from the Ministry of Youth, the  Royal Bahamas Police Force (RBPF) and several religious leaders also participated in the seminar and used the opportunity to provide words of encouragement and inspiration to the youth leaders.
Source: US Embassy


Captions: Top photo: U.S. Chargé d'Affaires John Dinkelman with the Youth Ambassadors.
Photo 2: Members of the Urban Renewal Band perform during the Youth Ambassadors Fun Day.