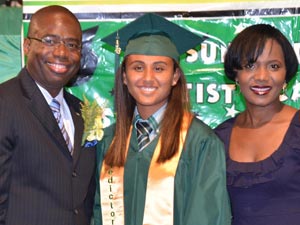 Freeport, Bahamas – Tertiary education is within reach for a select group of graduating seniors on Grand Bahama Island, thanks to the Top Achievers scholarship programme instituted by The Grand Bahama Port Authority, Limited (GBPA).  According to GBPA's Director of Community Relations, Geneva Rutherford, "Under the 'Making It Happen' initiative implemented by GBPA President, Ian Rolle, it was decided that the top graduating senior of each high school on the island would be rewarded with a scholarship towards furthering their education at the institution of their choice."
As commencement exercises continued on the island, another group of deserving students were presented with their GBPA awards.  Tabernacle Baptist Christian Academy chose as this year's graduation theme, 'Following our dreams; Fulfilling our destiny'.  Top achiever recipient and valedictorian, Shaquan Kemp gave a heartfelt address to her fellow graduates.  "Our theme is not a statement but a mandate," she stressed.  "I encourage each of you to dream bigger than you have ever imagined."

In his Principal's charge, Norris Bain reiterated the advice. "Find your place in society and make a contribution to this county," he stated.  "You are competing in a global world, so pursue higher academics."  Guest speaker, attorney Shatarah Andrews concurred.  "Life will happen with or without you.  You must decide where you want to go from here.  Nothing in life is worthwhile unless you take risks.  When you fall, you have to get over it.  When you fall, fall forward," were some of the reminders she shared with them.
'Baby Falcon' and Head Girl, Shaquan seemed well prepared to continue on the path to success receiving 8 Excellence Subject Awards and graduating with a 3.73 GPA as she gets ready to further her studies  at The College of The Bahamas in the Fall.

An aspiring certified public accountant, Laquay Vil of Jack Hayward High School was presented with her GBPA top achiever award for outstanding achievement.  The 3.79 GPA graduate has already passed 5 BGCSE's, including an A in mathematics and also plans to enroll at The College of The Bahamas in pursuit of an accounting degree.
Setting her sights on further studies at the University of Nebraska was Sunland Baptist Academy's top achiever, Taryn Smith.  Graduating with a 3.67 GPA and having sat 11 BGCSE's , Taryn received special subject awards in mathematics, geography, combined science, physics, chemistry, Spanish, biology, and leadership and valedictorian awards.  In harmony with her graduation theme, 'Moving Forward, Standing Tall, Today our Lives Begin', she encouraged her fellow graduates to be victorious and embrace the challenges that lie ahead. "Though the possibility of failure is great, our persistence must be greater," she said.
As expressed by Rutherford, "The Port Authority is pleased to assist in helping to make the dream of a higher education a reality for so many deserving youngsters on this island."
The Grand Bahama Port Authority, Limited
Captions:
Top Left: UNIVERSITY BOUND: Taryn Pinder of Sunland Baptist Academy is university bound thanks in part to a Port Authority top achiever scholarship.  She is flanked by the Hon. Kendal V.O. Major, Speaker of the House and Ginger Moxey, Vice President, GBPA during her school's commencement exercises.
Center Right: Head Girl, Shaquan Kemp, attended Tabernacle Baptist Academy from kindergarten.  She proudly accepts her GBPA Top Achiever award, accompanied by Geneva Rutherford, Director of Community Relations, GBPA and Principal, Norris Bain.
Bottom Left: TOP ACHIEVER: Director of Community Relations at The Grand Bahama Port Authority, Geneva Rutherford, presented Laquay Vil of Jack Hayward High School, with her top achiever award.