In a space dominated by men, two women are rising to prominence in an award-winning Bahamian solar company that is making a difference in sustainability by providing clean power and reducing the carbon footprint.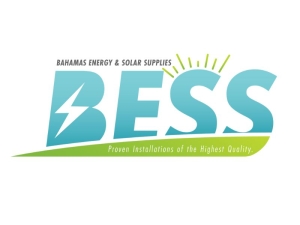 Aimee Rolle and Tiara Deveaux are pacesetters at BESS, Bahamas Energy and Solar Supplies. In 2022, the company won the CREF (Caribbean Renewable Energy Forum) top prize for microgrid installation. It was only the fourth time the prize had been awarded and BESS won for its 1.132MW DC and 840KW AC production on a private island in Exuma. 
"That was a challenge because we had to do it in the middle of COVID and without any outside help, all Bahamian with the exception of one foreign design engineer who was not on site," said Rolle. "The rewarding part is knowing that what we are doing is providing quiet, clean energy which is better for the environment, more important than ever in mitigating the consequences of climate change. And we got the island done in six months, which was record time."
From the client's standpoint, solar offers another advantage – financial. Exuma project will pay for itself in less than six years and will reduce dependency on fossil fuels for power generation on a Family Island.  
Rolle and Deveaux often work in tandem though the responsibilities they handle are very different. Rolle is to solar installation what a project manager and quantity surveyor are to a construction site. She helps with cost projection, quoting and estimating jobs, sourcing materials and managing shipping and inventory. Deveaux manages on-site installations, maintenance and repairs, including the rare emergency, aided by a young technology specialist. 
In addition to regular service calls and maintenance Deveaux does design, installation and assists with field work.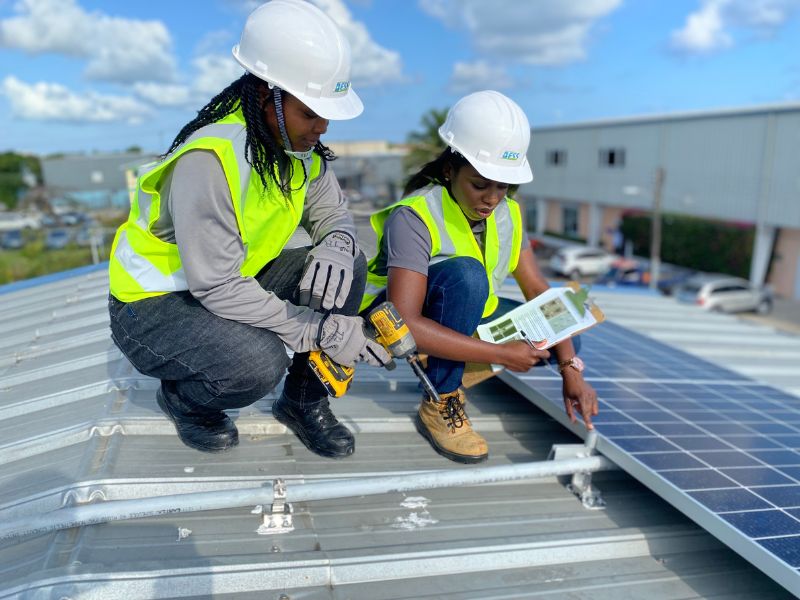 Both women have impressive credentials.
Deveaux, who holds multiple certifications and worked with a solar company in Barbados for two years, earned a Master's degree in project management from the University of the West Indies. Through an academic career that covered intensive solar-related subjects along with health and wellness, she studied renewable energy, solar electric design, installation and PV system fundamentals, learning both battery-based and grid direct principles. 
Rolle studied in Canada and Barbados, gaining experience post-graduation with a company in Indiana. She recently earned technical certifications in residential and commercial solar installation and OSHA safety practices and hazard recognition. 
Both women pioneers attended government high schools. 
A CV Bethel High School graduate, Deveaux went on to star at Bahamas Baptist Community College, becoming Valedictorian and winning both the President's Award and Natural Science Award before completing her education abroad. Rolle started her career education path at BTVI before being awarded a Ministry of Education scholarship and going abroad to study.    
 "Sometimes it is hard being the only woman on the job," said Rolle, "but when people see that you know what you are doing, they respect you."
Rolle and Deveaux expressed what they see as steps to advance solar. They would like to see greater exposure to subjects like sustainability and solar in school. They also have a real concern about those not fully trained or worse, unscrupulous, trying to enter the field and selling systems to the unsuspecting. They urge consumers to check certifications and ask for references and referrals from clients.  
As BESS founder Godfrey Thomas explained, having two women engineers bringing expertise to multiple projects simultaneously reinforces his belief that a company in The Bahamas will have a future role to play in the region. He sees their personal and professional growth as part of a larger picture of how the industry will develop, become more inclusive and benefit the public. 
"I'm glad to have these two women aboard," says Thomas, who for the first years after he launched BESS was concerned the investment might not pay off. "I thought maybe I was ahead of my time, but growing awareness of the need for renewables along with the high cost of electricity and the unreliability of it has changed the game and now we have a growing business with an exciting road ahead. I believe we are doing the right thing the right way for the right reasons."
Thomas's concerns about struggle have since faded. The company is now juggling as many jobs as BESS can handle without shortchanging anyone. 
In completed and ongoing projects, BESS is providing over 6 MW of solar energy in commercial, resort and residential including the larger warehouse spaces of nearly every major supplier of food and pharmaceutical goods in New Providence.