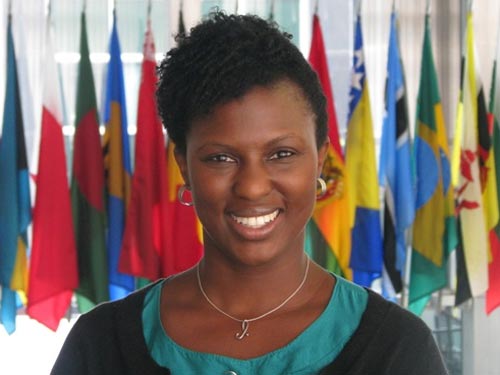 U.S. Chargé d'Affaires John Dinkelman is pleased to welcome the U.S. Embassy's newest diplomat, Ms. Neda A. Brown who assumed her role as Embassy Nassau's Public Affairs Officer in July, 2013. Ms. Brown heads the Public Affairs Section (PAS) and leads a dynamic team that seeks to engage and educate Bahamians on the work and priorities of the U.S. government. During her tenure, Ms. Brown will seek to build on the Embassy's strong and vibrant friendship with the people of The Bahamas through the promotion of academic, cultural, sports, and professional exchanges, as well as public -private partnerships.
Neda joined the U.S. diplomatic corps in 2003 and has served as a media relations officer at the Foreign Press Center in New York City, under President Obama at the White House Situation Room, and at the State Department's Operations Center where she provided 24-hour support to former Secretaries of State Condoleezza Rice and Hillary Clinton. Neda has also served overseas at the U.S. Embassies in Bogotá, Colombia and Santo Domingo, Dominican Republic and she completed temporary assignments in Mumbai, India and Santiago, Chile.
Though she recently arrived to Nassau, Neda considers The Bahamas as her second home. Her mother, Elizabeth (Hepburn) Brown, was born and raised in Nassau and after graduating from Government High School in 1970, went on to attend Fisk University in Nashville, TN where she met and married Neda's father, Rev. Alvin Brown. Neda's grandparents, Harcourt (deceased) and Diana Hepburn (93 years old and worked in the world famous Straw Market for more than 50 years) both hail from beautiful Cat Island.
In 2006, Neda and her sister co-founded Brownskin Apparel, LLC, a company designed to create and enhance positive self-images for people of color. Neda graduated second in her class with highest honors from Bennett College for Women in 2001 with a B.A. in political science and in 2003 she earned an M.A. in Law and Diplomacy from the Fletcher School at Tufts University. Neda is fluent in Spanish and has working knowledge of Portuguese.
U.S. Embassy, Nassau
Caption: Photo of U.S. Embassy Nassau's Public Affairs Officer Neda Brown.