The 700 islands of The Bahamas provide a variety of unique vacation experiences. Rated one of the top vacation destinations in the world, The Bahamas offers luxurious resorts, secluded beaches, superb diving and fishing, the excitement of casino gambling and world class dining, nightlife, water sports, attractions and activities.
Vacation in The Bahamas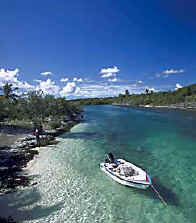 Calm waters and cooling trade winds have rightfully earned the The Bahamas an international reputation for sailing and boating, with regattas and races held year-round. The islands are actually the birthplace of the Gulf Stream, a phenomenon that also accounts for their astonishing variety and abundance of marine life and many world class Bahamas fishing vacation destinations. Come visit soon, see the beauty of the islands and experience our warm Bahamian hospitality with a Bahamas sailing vacation.
Other Resources
Answers to basic Bahamas travelers questions are answered on Bahamas-Travel.info's Bahamas Travel FAQs page.
Comfortable suites on Paradise Island is just one of a number of fine Bahamas Hotels, resorts and vacation rentals options you'll find in our hotel guide which features vacation accommodations for all islands of The Bahamas and all vacation budgets.
Bahamas Vacation Travel Guides & Info
Bahamas-Travel.info offers a Bahamas vacation travel guide for almost every topic related to vacationing in The Bahamas. This is a good place to go before visiting the Islands of The Bahamas.
With all the great island destinations to visit, places to stay, foods to eat and things to do, you'll appreciate the separate Bahamas vacation guide pertaining to Accommodations, Dining & Food, Activities, Things to Do and Weddings. There are individual Island Guides and a special guide entitled "About The Bahamas".
Pretty much everything you need to enjoy a Nassau Bahamas vacation can be found in the Nassau Bahamas Vacation Guide. It includes Paradise Island as well. For Abaco, Bahamas visit our Abaco Island Guide, or for the other islands of The Bahamas check the Bahamas Vacation Directory, a hand-edited directory of Bahamas vacation and travel links. If you still can't find what you need try visiting Bahamas Vacation Search for a fast, easy way to find in-depth Bahamas vacation resources.