The Creative Center is Nassau's newest creative venue for visual artists, students and media professionals. With new programmes and packages, it now hopes to help enhance people's creative skills and expand their businesses. Located in Chippingham, next to Popopstudios, The Creative Center prides itself in collaborative community partnerships amongst a wide selection of local talent, from photographers to filmmakers, models to artists, students to stylists, and everyone in between.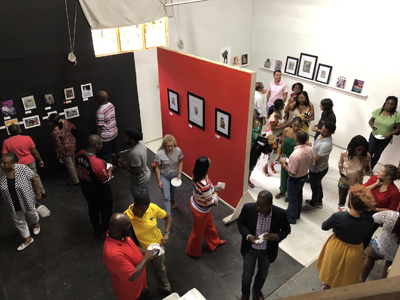 Founded by Duke and Lisa Wells – the creative minds behind The Bahamian Project – The Creative Center offers a number of professional services, including, but not limited to, studio rentals, creative courses and workshops, art exhibitions, photo shoots, community events, and plenty more, with additional services currently in development. "It's a great space," said portrait photographer Scharad Lightbourne. "It's very unassuming too, which allows for privacy. It's perfect for creatives because it's an empty shell." Since its soft-launch in April,2019, The Creative Center has hosted a number of events, classes and photo shoots for both notable artists and up-and-coming talent. Recently, The Creative Center offered a seminar on lighting as an important tool to improve photography. Last year, Bahari, an innovative Bahamian-based clothing company, booked The Creative Center to photograph new merchandise from their upcoming seasonal fashion line.
The new Creative Center hopes to give Bahamians a space to help inspire their art.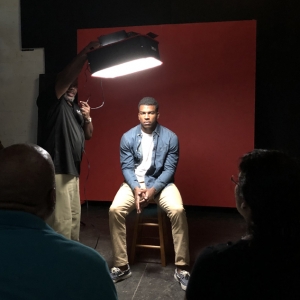 Throughout the previous Summer, in collaboration with the Choice Modelling Agency, The Creative Center has sponsored "photo shootouts", giving both amateur and professional photographers an opportunity to enhance their skills by working with models and other passionate shooters. In early August, artists Jessica Whittingham and Jalan Harris hosted a collage exhibit entitled "Cuttin Up", which marked the first art exhibit held at Center. "It was a collaborative project," said Jalan Harris. The Creative Center is free-range for artists to do whatever they want." In addition to utilising the space as an independent artist, Ms Harris served as The Creative Center's art events coordinator. "The space complements the work well," she added. With many more events, workshops, and community initiatives on the horizon, The Creative Center aims to continue to evolve and shape itself as an integral creative workspace for Bahamian artists. "The whole aim of The Creative Center is to allow people to create their own events without the 'red tape' of galleries," said Ms Harris. "This community Center will allow a wider array of artists to reap the benefits of the creative business. Its a hub of creativity."
For more information, please visit The Creative Center at www.creativecenterbahamas.com.
Originally Published in September, 2019, by The Tribune Weekend