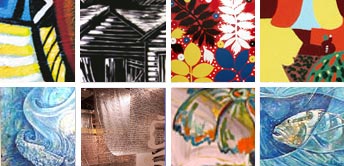 For such a small country the Bahamas has produced an impressively high number of world-class artists. Masters like Max Taylor, Kendal Hanna, Antonius Roberts, Eddie Minnis and Jackson Burnside, amongst several others, were pioneers in Bahamian art and have brought international recognition to these islands.
From well-cultivated talent like that of Brent Malone, to the raw iconic style of Amos Ferguson, to the edgy contemporary works of John Cox and Heino Schmid, to the refined illustrative style of Lavar Munroe and the ethereal forms of Chantal Bethel and Claudette Dean, the Bahamas has continued to prove through the decades that it has more to offer than sun, sand and sea.
Being an artist in the Bahamas is not all about paradise and palm trees. Bahamian artists have struggled with exploring their personal and national identities, seeking often to transcend the tourism landscape and make their voices heard in the global cultural arena. And so many of them have been heard, and seen and admired far beyond these shores. Proving the Bahamas art scene is not just a postcard but a message and possibly even a movement.
Currently, "Master Artists of The Bahamas" is making history as the largest collection of Bahamian visual artists' work to be displayed in the United States. The exhibition and symposium will be opening in Waterloo, Iowa, featuring over 40 works by eleven Bahamian artists. Coinciding with this event Antonius Roberts is working through a week-long art residency in Iowa.