(NewsUSA) – Along with the comfort that cooler days give us also comes fewer daylight hours. While you should practice caution when driving no matter the season, it's important to take extra precautions this time of year to prepare yourself and your vehicle for nighttime driving.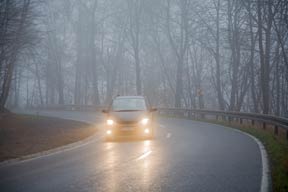 As the days get shorter, and inclement weather descends upon us, Firestone Complete Auto Care would like to provide the following tips.
* Develop a habit to make sure your tires are properly inflated, rotated and in good condition.
* Make sure your lights and mirrors are clean and properly positioned. Incorrectly aimed headlights can temporarily blind other drivers and reduce your ability to see the road. Properly aligned mirrors also reduce blind spots.
* When in doubt, turn on your headlights. Even if they don't help you see better, they'll make it easier for other drivers to see you.
* Use high beams sparingly. Live in an area with high fog? It's not a good idea to use your high beams. Instead, you should use only your low beam headlights, since high beams reduce your ability to see. Some newer vehicles even come equipped with special fog lights.
* Maintain your ability to see well, and adjust your vehicle's interior lighting if necessary. If streetlights cause a lot of glare, dim your dashboard lights and use your sun visor. Avoid using any other light inside your vehicle.
* Switch your rearview mirror to its night setting. By changing the angle of the reflective surface, the lights reflecting in your mirror will appear to be dimmed.
* Clean your windshield inside and out. Keeping your windows clean — especially the windshield — is crucial to road safety. Wipe down your windows each time you wash your car, and refill wiper fluid regularly.
Whether it's in the bright of day or dead of night, you should always take the necessary precautions to ensure that you're driving safely and that your vehicle is road ready.
For more road tips, visit www.firestonecompleteautocare.com.