She has represented The Bahamas as a national track and field athlete, bringing home medals and glory to the nation at the Carifta level in the heptathlon. Now, Sasha Joyce hangs up her cleats for high heels as she takes on another arena of competition – the 61st annual Miss World Beauty Pageant.
Sasha left the capital all smiles on Tuesday evening, hoping to become the second Bahamian woman in as many years to advance to the final round of the world's largest beauty competition, scheduled for November 6th in London.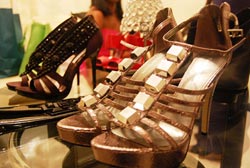 Thanks to the generosity of local and international sponsors, Sasha should have a competitive edge at the pageant. Everything from fashion jewelry to shoes, daywear, cocktail, and gala dresses was provided by boutiques and department stores here in New Providence as well as in the United States.
Leading the list of retailers who provided a variety of items valued in the tens of thousands of dollars was Diamonds International, who provided Sasha with a $10,000 pair of diamond earrings, fit for a queen. However, those earrings won't outshine her pearly whites – courtesy of Dr. Barry Russell at the Bahamas Orthodontic Center and Dr. Kenworth Newbold at The Smile Center who together gave our queen a $5350.00 smile.
Making sizeable donations to her wardrobe were Patricia Chatti of Cia Monet, who donated more than $3,000 worth of clothing and accessories; and the boutiques Via Mare and Nassau Gals, who each contributed more than $1000 dollars worth of items.
Also adding to her incredible prize package was: The Shoe Village, The Luggage Store, Sacha Cosmetics, Coles of Nassau, Indira Moss, Sherri Hill for La Casa Hermosa, Alisha Hill, BG Haute, The Mall at Marathon, Classy Loft.
Bahamian designer extraordinaire Apryl Jasmine created Sasha's national dress, which will be worn during the Miss World Parade of Nations. The beautiful 2-piece ensemble incorporated coral inspired fabric from Bahama Hand Prints, adorned with shells and beading. Apryl also served as Sasha's stylist, assisted by MBO staffers Zhivon Young and Anishka Lockhart.
Prior to her departure for London, Sasha spent a week in training with world renowned pageant coach Grace Fontecha who has a proven track record of producing winners and finalists in international competitions, including our very own Braneka Bassett who was a finalist in last year's Miss World pageant. She also had her hair prepared by Natalie Dyson of Florida Hair Extensions.
Miss World Bahamas Wardrobe
"Words cannot express how grateful we are for the generosity of all who gave", says MBO President Michelle Malcolm.
She continued, "I would especially like to thank everyone who contributed to Sasha's prize package, but I would like to especially thank Apryl Burrows and Ashley Lauren Kerr for providing invaluable assistance in our efforts to prepare her for the biggest competition of her life. I am confident that she is going to be a force to be reckoned with in London, and build on the success of her predecessor as she goes after the Miss World crown."
Miss Joyce presented key pieces of her wardrobe to the media and the general public during a reception sponsored by Elements Lounge in the Mario's Bowling and Family Entertainment Palace on Monday evening.
Source: Miss Bahamas Organization