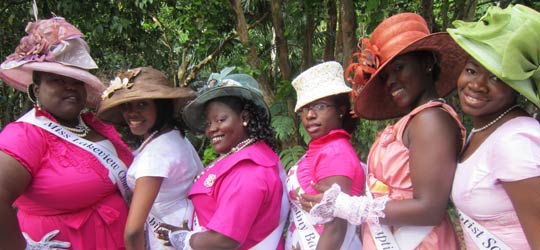 Contestants in the Miss Gospel Bahamas Pageant flaunted their elegance, etiquette and poise at the second annual High Tea and Hat Show Gala staged in the gardens of the Bahamas National Trust over the weekend.
Held under the theme, "Pretty in Pink, Pearls and Lace," the event had a two-prong aim, said pageant chair Anya McKenzie. Contestants were able to put their finishing lessons in table manners and deportment to good use, while the public got an opportunity to meet the ladies vying for the Miss Gospel title in a fun environment.
The 10 contestants in this year's pageant stayed true to the pink theme in their table setting and attire. Showing off their church finery, the ladies presented the latest in stylish hat fashions.
Some attendants even got into the spirit of things, showing up in dresses in all shades of pink and sporting freshwater pearls.
The audience was treated to a light lunch and giveaways presented by event host, Minister Lavette McFall. Providing entertainment were violinist Alexandria Smith and soloist Moika Rolle.
Ms Rolle, the 2005 Miss Gospel Bahamas, encouraged contestants to "grow as women, individuals and ministers of God." Having lost both parents on the same day last year, the former queen said she uses her Miss Gospel Bahamas experience to "carry me through" each day.
Also bringing brief remarks were Miss Gospel Bahamas 2009/10 Shenique Gray and reigning queen, Sylvian Rahming.
It was under Ms Gray's reign that the inaugural tea party was held last year at her home. The event was made even bigger and better this year with the help of the Bahamas National Trust and its executive director, Eric Carey.
Ms Gray encouraged contestants to concentrate on God's purpose for their lives.
"Identify your purpose and take full advantage of it," she said.
Ms Rahming says she remembers all too well how it felt to be a contestant. Her words of advice to the ladies: "Give it your all, no matter how hard or how tough it gets. Remember that you have a goal. Remember that at the end of the day you want to be crowned Miss Gospel Bahamas 2011."
She added: "Focus on actually getting what it is that belongs to you out of this pageant experience because there can only be one queen crowned that night. Just remember that every last one of you is a queen within your own right."
The afternoon concluded with the judges' panel announcing the winner of the table setting contest.
Walking away with first place was Gerissa Maurice.
Judges Laverne Newbold, Ann Lightbourne and Norma Dean thought the 19-year-old demonstrated best the use of proper place setting and good selection in china and utensils.
The other contestants in this year's pageant are Nikirah Braynen, Aimee Ferguson, Sherlene Jean-Baptiste, Dianthus Johnson, Nehemie Louis, Candice Rolle, Lavette Smith, Andrice Strachan, and Cedrica Williamson.
The 16th annual Miss Gospel Bahamas Pageant will be held Sunday, July 31, at 7pm at the Wyndham Nassau Resort's Rainforest Theatre.
By Precision Media