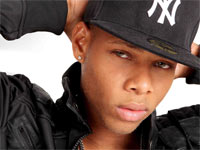 Freeport, Bahamas – Although this young vocalist was influenced by the likes of Maxwell, BoyzIIMen, Tank, and Babyface, he still managed to hone and create his own style and sound. A sound that will be heard in his performance at the upcoming "Ultimate Girls Night Out" Manhunt International Bahamas Male Modeling Competition on September 22nd at Treasure Bay Casino. Seven Bahamian men will courageously bare their soles and display their model good looks and style for a once-in-a-lifetime opportunity to represent The Bahamas at Manhunt International later this year in Bangkok, Thailand.  The contestants are from New Providence, Bimini and Grand Bahama, and having varying backgrounds in modeling. Vying for the title are Philip Cooper II,  Drew Palacious, Feliche Ranger, Christoph Symonette, Natakai Opato, Trumaine Taylor, and Pedro Majias.
So catch the phrase and "Spread the Rumah". This young, vibrant 20 year old star and singing sensation of The Bahamas is quickly becoming a world-class voice of our generation.  In a matter of a few months with Paragonic Entertainment, Rumah has garnered over 13,000 Facebook likes, over 10,500 YouTube subscribers with over 17 million worldwide views on the channel, and over 25,000 Twitter followers because of his brand, the international appeal of his voice, and his model good looks.
The 2008 and 2009 National Arts Festival winner released his first official single "Party in da 242 (Beautiful Night)" on the 2nd of July 2012, for our Bahamian Independence Celebrations, and it caused a frenzy in the media. The single has landed him international exposure, with additional exposure through radio interviews on the Guardian Radio, Star FM, and Island FM. Moreover, he has received international spins and additional radio adds for the single on many of the national stations as well. Furthermore, he's been featured in TheBahamasWeekly.com, BahamasLocal.com, Bahamas Press, The Tribune, and The Freeport News.  The Junkanoo single "Party in da 242" was even requested by the Ministry of Youth, Sports, and Culture to be performed to our Independence Celebrations for both Freeport and Nassau ceremonies.  The party continued as the Ministry of Tourism requested that he give an encore performance at the 2012 annual Junkanoo Festivals in Freeport, Bahamas.
Rumah now gears up to give his all for the ladies of the 242. Rumah said, "I am a love revealer to the ladies." He continues, "I love and respect all the ladies, and that will be showcased in the image and music of my debut album "Spread the RUMAH".  This will be a treat for the ladies as I will cater to them with this record, and I will show them who I am. I'm open, confident, vulnerable, selfless/charitable, honest, have a crazy sense of humor, I'm a gentleman, and I possess a sexy innocence.  All of this lives in my voice and music."
Rumah is set to showcase who he really is at the first ever Manhunt International Bahamas Competition 2012.  Ladies, you do not want to miss being serenaded by this crooner with eyes of a chameleon, and a golden voice of an instrument to melt your heart and soothe your mind! Tickets for the event are now on sale at 1 9 6 in Port Lucaya. For more information go to Manhunt International Bahamas on Facebook.