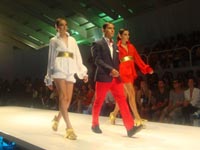 The Caribbean Export Development Agency (Caribbean Export) in partnership with the European Union (EU) enabled a selection of exceptional Caribbean designers to present their collections at Dominicana Moda 2012, the Dominican Republic's fashion week. Designers from Antigua and Barbuda, Barbados, Trinidad and Tobago, Jamaica and Haiti ignited the show with their creative designs and runway flair.
Showcasing designers included Trinidadian designer Meiling, who has worked closely on a number of successful projects with Emmy Award-winning costume designer Peter Minshall, Jamaican designer Arlene Martin, with her drennaLuna brand, whose designs have been worn by Jamaican supermodel and American Vogue favourite Jaunel McKenzie. Up and coming Haitian designer Prisca Milliance presented her L'Antillaise collection along with Jean-Marie Thomas of Antigua and Barbuda, who wowed the audience with an innovative take on resort wear. Menswear designer Rykii de Jude from Barbados presented his new collection.
The presence of CARICOM designers in Dominicana Moda 2012 is part of a long-term engagement that Caribbean Export has set forth to develop capacity and increase visibility of the region's fashion industry. Following on the successful London Engage Fashion Showcase presented in London during the 2012 Summer Olympic Games; the presentation of 11 designers in Caribbean Fashion Week 2012, and the Caribbean Collections London Fashion Week debut in February 2012, five designers were selected to highlight the region's flourishing fashion talent in the Dominican Republic.
Besides showcasing their collections, these designers had the opportunity to engage with manufacturers and suppliers from the Dominican Republic, thanks to the collaboration of the Dominican Textile Association (ADITEX), which partnered with Caribbean Export, the European Union and the Dominican Directorate for Multilateral Cooperation (DIGECOOM) to foster intra-regional business opportunities during this event. Site visits took place in the city of Santo Domingo in an effort to have designers meet and interact with local manufacturers to encourage local production instead of outsourcing their production outside the region.
Dominicana Moda 2012 took place in Santo Domingo, Dominican Republic from the 22nd to the 27th of October, 2012. Now in its seventh edition, Dominicana Moda is a major fashion event in the Dominican Republic and throughout its six days of continuous runway shows many brands and designers come together. Major fashion houses have participated in the past, and this year closed with the Lebanese designer Ellie Saab; one of the most exclusive Haute Couture brands in the world, showing for the first time in this side of the Atlantic; to which all designers had access to.
The presence of five Caribbean designers at Dominicana Moda 2012 was made possible by Caribbean Export Development Agency and the European Union under the Regional Private Sector Development Programme that is being implemented within the framework of the 10th European Development Fund. This program has been made possible thanks to the cooperation funds made available to the CARIFORUM Countries to increase the competitiveness and innovation of the regional private sector.
By Caribbean News Now!