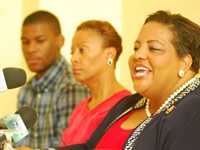 At first glance it is the kind of unlikely mix that makes heads spin — the country's leading ladies getting all dolled up in trendy, heady fashions to help raise funds to support the health and welfare of 35 young people and their families.   On second glance, the Red Dress Soiree set for March 3 at 6 pm at the Sheraton Nassau Beach Resort makes a lot of sense, as much a meaningful fund-raiser as a soiree. News of it was released today at a press conference with Minister of State for Labour and Social Development Loretta Butler-Turner and President of the Bahamas AIDS Foundation Camille, Lady Barnett.
"When AIDS first became an issue in the Bahamas in the 1980's, individuals including children were ostracized. I am happy to know that that unfortunate chapter in our country's history is coming to a close," said Minister Loretta Butler-Turner. "AIDS is not a death sentence. I heartily endorse this event and encourage you all to attend."
The three-part event — runway show, cocktail reception and silent auction — directly supports an ongoing program that provides tutoring, psychosocial intervention, counseling, snack and hot meal, food/clothing bank and life skills lessons for some 35 males and females between the ages of 9 and 22. Infected or affected by HIV/AIDS, they gather five days a week to gain self confidence and information, to receive peer support and counseling, to share hope and the strength they need to cope with living with HIV/AIDS or to care for an infected family member. For each, the daily after school program has been a soul saver and, for several, a lifesaver.
Now, they will be the unseen stars of a show that will include women selected to walk the runway because of the beauty of their spirit and their contribution to worthy causes. Among them–   The Hon. Janet Bostwick, Joann Callender, Dr. Sandra Dean-Patterson, Karin Goodfellow, Maria Govan, Janet Johnson, Tanya McCartney, Elaine Pinder, Tonique Williams and Sharon Wilson.
Each of the 10 'leading ladies' will wear a gown designed just for her by one of the country's 10 leading designers including Javotte Bethel, Anthea Bullard, Apryl Burrows, Phylicia Ellis, Sabrina Francis, Patrice Lockhart, duo Cardell McClam and Christopher John, Indira Moss, David Rolle and Theodore Elyett.
"Generali Worldwide, in keeping with its commitment to positively affect the health and well being of the communities in which we live especially through youth-based initiatives, embraces this opportunity to partner with Primadona and the Bahamas AIDS Foundation to ensure that adolescents affected by HIV/AIDS are given every opportunity to flourish," stated Tina Cambridge, Regional Director of Generali Worldwide.
Sponsors include Generali Worldwide, Diamonds International, RBC, BOB (Bank of The Bahamas), Super Value, Sheraton Nassau Beach Resort, Coca-Cola Bahamas, Mendoza Wine Imports, The Bahamas Weekly, Bahama Islands Info, FirstCare Medical Plan, Media Ink, SageEden and DP&A.
"It is an onerous task to come up with money day after day, week after week, month and year after year to keep programs like this going, but when we look at the results, it deepens our resolve," said Lady Barnett. "We are grateful to everyone who is contributing and want to urge corporate Bahamas to grab the last few group ticket packages available for such a worthy cause, to support the adolescents of this country who, through no fault of their own, are either infected or affected by HIV/AIDS. The opportunity to partner in this event is timely as we are in need of funding."
Tickets are available for a donation of $100 and can be purchased at La Rose Boutique on West Bay Street or Goodfellow Farms in Mt. Pleasant. Free delivery is offered for group ticket sales of 6 tickets or more and can be ordered by calling Ms. Lightbourne at 325-9326 or 376-6629. Visit  <http://www.rdsbahamas.com/> www.rdsbahamas.com for more information.
Diane Phillips and Associates