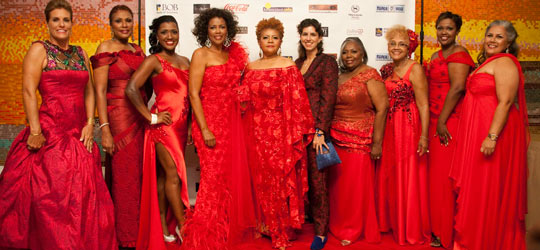 Hundreds filed into the Sheraton Nassau Beach Resort Ballroom for the Inaugural Red Dress Soiree held on March 3, 2012, which raised thousands for the Bahamas AIDS Foundation and their work with adolescents affected by and infected with HIV AIDS.
Presented by Primadona and The Bahamas AIDS Foundation, the three part event – runway show, cocktail reception and silent auction featured ten of The Bahamas' trailblazing women who showcased original designs by ten Bahamian fashion designers.
"It was an exceptional event which brought us out of our usual zones into something special and unique," stated Leading Lady JoAnn Callender who wore an off-the-shoulder gown designed by Sabrina Francis.
The event highlighted pioneering Bahamian women representing various industries who have achieved excellence in their careers and consistently give back to the community. Each lady was paired with a designer and collaborated for months on the unique design she was to showcase.
The inaugural event was sponsored by Generali Worldwide, Coca Cola, RBC, Bank of The Bahamas, Supervalue, MAC Cosmetics, Diamonds International, The Bahamas Weekly, Bahama Islands Info, Mendoza Wine Imports, FirstCare Medical Plan and DP&A.
The night began with a red carpet experience and wine tasting sponsored by Mendoza Wine Imports. Members of the All for One Band – a group of talented Bahamian musicians all under age 24 kept guests grooving to covers of popular songs by artists including Adele and Chaka Khan as they eagerly awaited the opening of the runway room.
The completely transformed ballroom – designed by Bahama Fantasies, set the stage for the stellar runway show. From ruby red, one shoulder embellished frocks with thigh high splits such as the Indira Moss design worn by Olympian Tonique Williams to the deep v-neck, cap sleeve gown with lace embellished bodice worn by The Hon. Janet Bostwick and designed by Apryl Burrows – Bahamian designers wowed the cheering audience with their world-class works of art.
"The evening was beyond exceptional, a very tasteful and organized production" stated designer Theodore Elyett.
A cocktail reception and silent auction followed the runway show. Guests bid on more than 30 silent auction packages featuring private island getaways, spa packages, furniture, fine jewelry and more. Guests were also able to bid on exceptional art pieces commissioned especially for the inaugural Red Dress Soiree by renowned artists John Cox and John Beadle as well as a moving piece created live by Allan Wallace.
All proceeds from the silent auction were donated to the Bahamas AIDS Foundation and their outreach program that nurture adolescents infected with or affected by HIV/AIDS.
During her remarks, Camille, Lady Barnett, President of the Bahamas AIDS Foundation shared two journal excerpts from adolescents currently enrolled in the AIDS Foundation's after-school outreach program.
"One of the entries had the following words, 'I think this was a mistake for me to be born, sometimes I feel like I am not important to nobody – it is like people don't care for me.' Another one wrote, 'I'm hurting so bad, nobody understands where I'm coming from. I wish sometimes I could kill myself,'" read Lady Barnett.  "Ladies and gentlemen, with your support this evening, we can show these young people and others like them that they are important, we do care, and that they do have a future in our society."
The ten Leading Ladies of the inaugural Red Dress Soiree included The Hon. Janet Bostwick, Joann Callender, Dr. Sandra Dean-Patterson, Karin Goodfellow, Maria Govan, Janet Johnson, Tanya McCartney, Elaine Pinder, Tonique Williams and Sharon Wilson
The ten designers were Javotte Bethel, Anthea Bullard, Apryl Burrows, Phylicia Ellis, Sabrina Francis, Patrice Lockhart, duo Cardell McClam and Christopher John, Indira Moss, David Rolle and Theodore Elyett.
The Red Dress Soiree 2013 is scheduled for February 2013 with the goal of raising 75K for The Bahamas AIDS Foundation's work with adolescents.
Red Dress Soiree