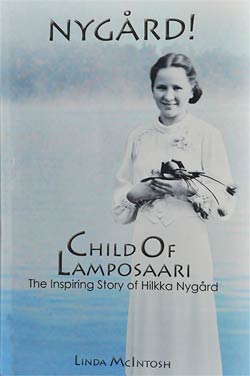 Falcon Flight Publishing has released a new book – "Child of Lamposaari" – the authorized biography of NYGARD Fashion matriarch, Hilkka Nygard. Detailing the remarkable life of Hilkka Kanerva Nygard, who left her beloved Finland and came to Canada with her husband Eli and their two children, Peter and Liisa, to escape the threat of Communist domination, Child of Lamposaari is not only a tribute to Canadian immigrant mothers everywhere, but also a tribute to the lands they left behind and to the great country to which they came.
This collection of her many adventures – the dangers she faced, the courage she showed in overcoming her fears, her sheer determination to give her children the opportunity to grow, create and achieve in a free society – are fascinating and inspiring. The woman who started her days in Canada living in a coal shed, scrubbing floors for a living, would later live in palatial surroundings and entertain royalty. In either, or any, setting, however, she was dignified and cheerful, strong and optimistic, faithful and loyal, always remaining, in her heart, a child of the beautiful forested island of Lamposaari.
Child of Lamposaari will be available for purchase on August 5, 2011 at Chapters Indigo, McNally Robinson, Coles bookstores, all NYGARD stores and on line at Nygard.com.