When you are transitioning to plant-based, sometimes it's tempting to just eat eggs "sometimes". I mean why not right? Everyone seems to eat them so they can't be that bad can they? Well, in fact, they are…
Eggs are a concentrated source of saturated fat and cholesterol. They are specifically created to develop a baby chick. They are filled with fat and protein to build talons, a beak, feathers and organs. This doesn't strike me as something that should be considered a food fit for humans.
Everyone seems to eat eggs so they can't be that bad can they?
Keep in mind that our body makes all of the cholesterol that it needs, so by eating any animal products, one is consuming cholesterol which is in fact damaging the body.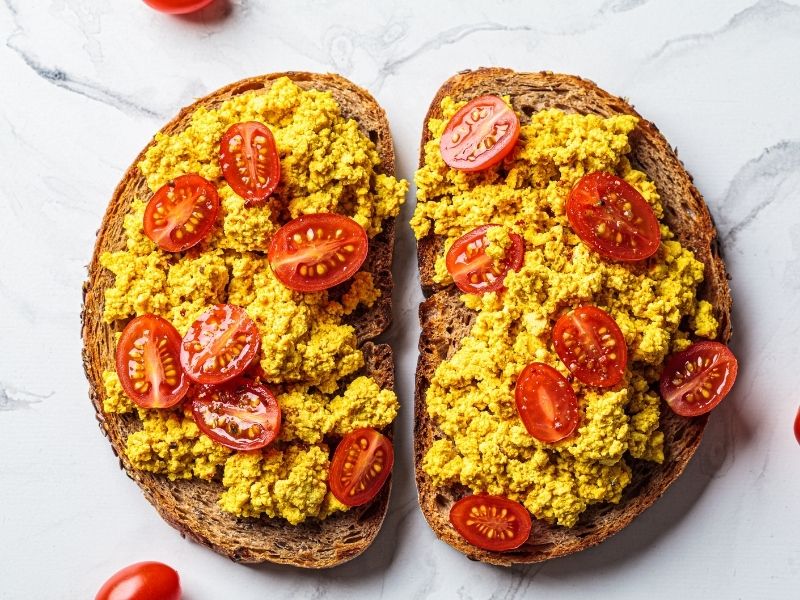 In keeping in line with my last two posts on soy and tofu, I would like to share with you this delicious alternative to scrambled eggs. I have made this a few times, tweaking the recipe and each time it just seems to get better. Sometimes, when I work on my blog, I end up enjoying the vegan breakfast wrap at the Bean Scene. I figured I should darn well make them myself more often!
This recipe is great for breakfast, in a wrap, or on its own, just like scrambled eggs. I love it for lunch too and last night, our family enjoyed it for dinner, filled with avocado, slathered with salsa and chipotle sauce and served with a side of roasted veggies. Even my "I hate tofu" daughter ate the entire thing. Score, mom!
Visit The Vibrant Veggie for the recipe & blog post.