Transitioning to a plant-based diet? Or are you a seasoned herbivore looking for new and delicious plant-based recipes? Try this plant-based chicken salad! 
This plant-based chicken salad is easy, budget- and allergen-friendly, and extremely customizable. The star of this salad is the incredibly versatile chickpea! Chickpeas aka garbanzo beans can be made from dried or bought in a can, either make a fantastic and flexible base for whatever salad you want to prepare.
Even people who don't care for chickpeas will be pleasantly surprised with this delicious plant-based chicken salad.
Feel free to start your salad with a tin of store-bought chickpeas. It is usually best to find chickpeas that contain no extra salt (sodium). However, whenever buying canned chickpeas, whether they contain salt or not, always rinse them under fresh, cool water and drain well before using them in any recipe.
Choosing to cook your chickpeas from dried requires a bit more planning. This is because dried beans require soaking before cooking and can take an hour or so to cook. Dried chickpeas will usually cost less per gram, making them more cost-effective.
The second most important ingredient in plant-based chicken salad is a binding agent- which in most cases is mayonnaise. For a vegan 'chicken' salad, choose vegan mayonnaise. You could also replace mayonnaise with plain, greek yogurt for a lower-fat/cholesterol version. Or try combining the two- it's really up to you. 
The amount of mayonnaise you use will also vary on your preference and palate- some like a rich and creamy chickpea salad, while others will use just enough mayo to bind everything together. Keep in mind you can always add more mayonnaise when serving- this is especially useful if you are using this chickpea chicken salad for meal prep. The salad can become slightly watery after being in the fridge a few days, the amount of water depends on your mix-ins as well. But we have found with mayonnaise that less is more for keeping things fresh- and you can add to your taste when serving.
To make this chickpea chicken salad sing, you'll need to add some mix-ins to boost the flavor. If you're going for a tuna-inspired chickpea salad, try this recipe.
For a chicken-style chickpea salad, our favorite mix-ins are scallions, celery, walnuts, grapes, and a bit of fresh dill or tarragon.
Serve your plant-based chicken salad on warm croissants, on toasted bread, with crackers, on fresh, bibb lettuce, or simply by itself! Most chickpea-based salads will stay fresh in the fridge for about 5-7 days when stored in an air-tight container.
If you try this chickpea 'chicken' salad recipe, share and tag us on Instagram & Facebook!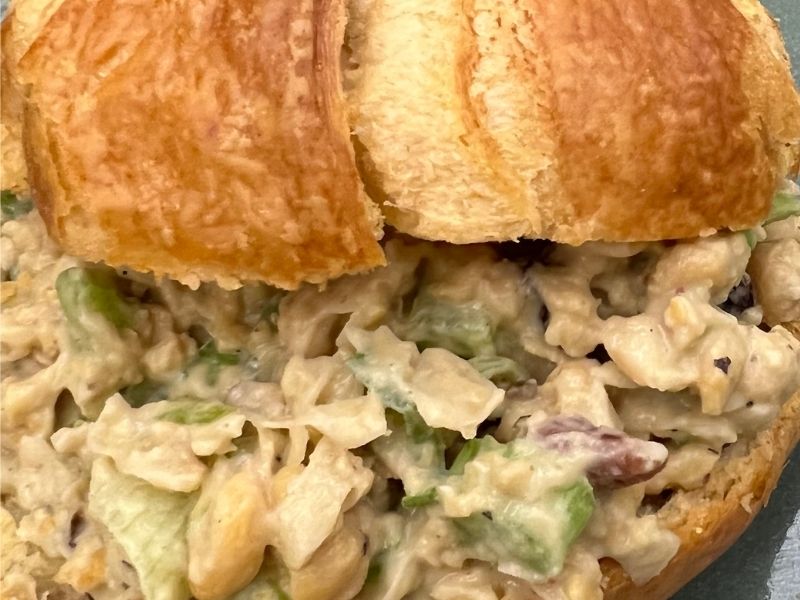 Plant-Based Chicken Salad 
Ingredients
For the Salad:
2 cans of chickpeas (or 3 cups if using cooked from dried)
1 cup finely chopped celery
½ cup quartered grapes (green or red- be sure they're seedless!)
½ cup roughly chopped walnuts
½ cup finely chopped scallions (both green & white parts)
Fresh or dried dill or tarragon, to taste
Salt & pepper, to taste
For the Dressing:
⅓ cup mayonnaise (more or less, to taste)
4 tablespoons apple cider vinegar
1 tablespoon maple syrup
½ tablespoon dijon or brown mustard
Method
Combine salad ingredients in a large bowl, mix and set aside.

Combine dressing ingredients into a clean container with a tight-fitting lid. Shake until well-blended. 

Pour dressing over salad and mix well. 

Taste test your salad, and add more of whatever you think it needs!

Let your salad sit in the fridge for 20-30 minutes before serving.