By: Gabbi Sawyer
Nassau, Bahamas just happens to be one of those places on Earth where you can comfortably eat ice cream outdoors on a Sunday afternoon – in December. Winters here are a snowbird's paradise, as the sun loves to work overtime and hardly ever takes a vacation. One sunny Sunday afternoon, I decided to take a scenic drive and meet up with a friend for some ice cream.
Without even having to ask for recommendations, I already had in mind two popular ice cream shops that I have been dying to try. They are notably two of the most popular spots on the island. Both of these shops are Bahamian-owned and offer a variety of artisan and gourmet options that cater to every palate, including vegan options.
They also feature some of the best local flavours such as guava and soursop, and often have limited-edition and seasonal flavours. From the pricing, to the taste, to the service, let me give you "the scoop" – pun intended – on how these experiences went.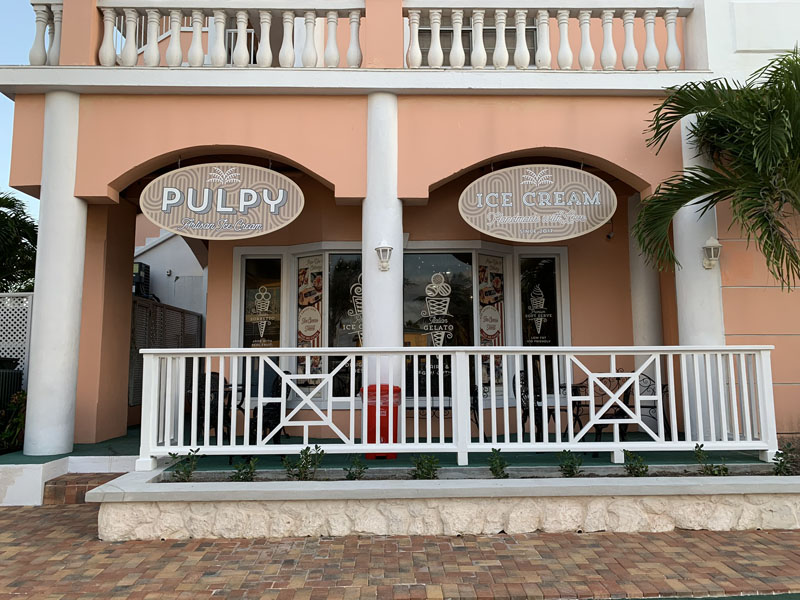 → Pulpy: Artisan Ice Cream
After cruising for a while with the windows down, the first stop of the afternoon was Pulpy. Nestled in Sandyport, this storefront with clear signage seemed modern and inviting. Upon entering, my friend and I were immediately greeted and directed to the menu to begin choosing menu options. I was pleasantly surprised by the availability of free samples of gelato, which helped aid my decision on which item to choose.
What is unique about Pulpy is that if you order rolled ice cream, which is the specialty item of the store, you get a front-row seat to the execution of your ice cream order. The ice cream artisans are elated to let you watch and record them as they mix, spread, and roll your chilled treat. The process takes about 3 and a half minutes from the time your base is first poured onto the anti-griddle (a freezing mechanism), to the moment the picturesque beauty is handed to you for consumption.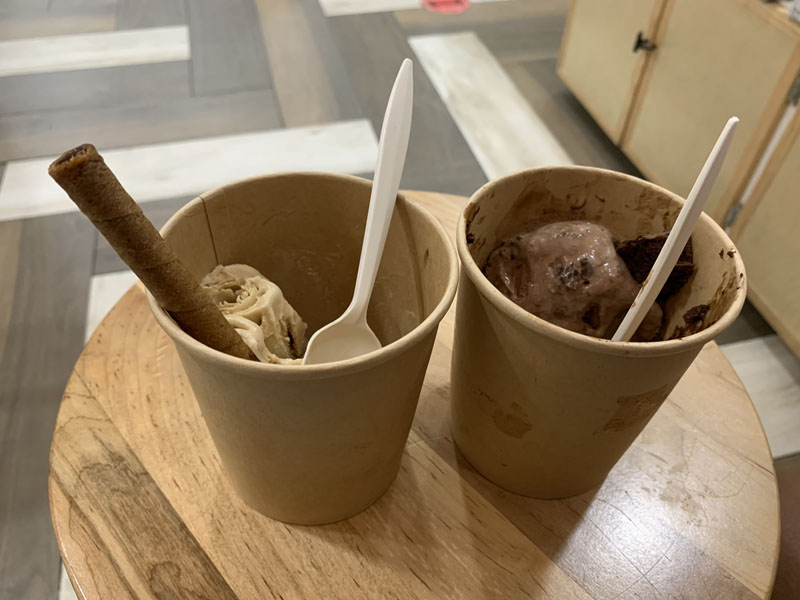 Here's the breakdown of Pulpy:
Ice Cream Shop; Specialty – Rolled Ice Cream
Where
#108 Sandyport Marina Village
Off West Bay St
Menu
Pulpy's menu is very expansive, offering over 15 flavours of rolled ice cream, vegetarian options along with leaded gelato. Ice creams are sold in a cup or homemade cone. Samples of gelato are offered freely.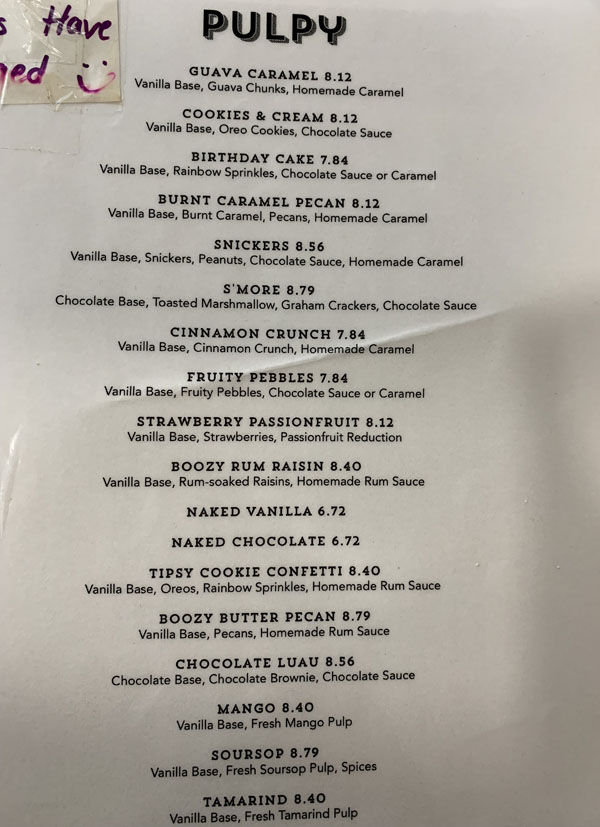 Cost + Portions
$
Pulpy's ice creams are reasonably priced, especially considering the size of the portions. Rolled ice creams range from about $7.00-$9.00 before V.A.T. One order is easily enough for one person with a healthy appetite and can even be satisfactorily shared between two people.
Gelato is $4.50 per scoop before V.A.T., and each scoop is a large portion.
The Vibe
Cozy and quiet. The environment is clean and organized with modern décor and flat-screen televisions displaying featured items. Should you decide to stay and enjoy your treat, Pulpy offers comfortable indoor and outdoor seating and soothing background music. The seats are spacious enough to house several patrons at once.
And how could I forget, free Wi-Fi!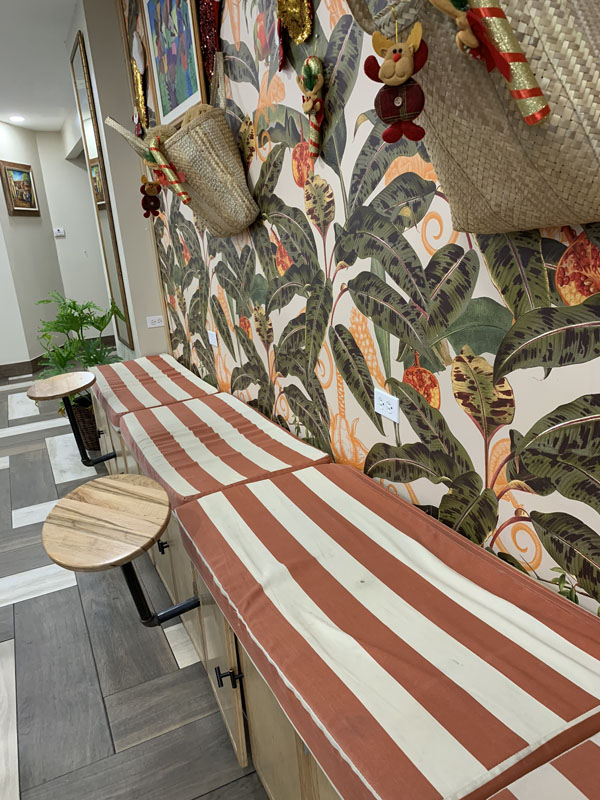 Menu Items Ordered
Gelato
Bailey's Brownie & Boozy Butter Pecan – both great options! I am a lover of alcohol in desserts and these hit the spot. While mildly boozy, they were creamy and filled with inclusions that complimented the flavour of the gelato.
Rolled Ice Cream
Chocolate Luau – If you are a lover of chocolate, this chocolate-on-chocolate-on-chocolate combination is sure to satisfy the craving. It also features homemade brownies. The ice cream was rich, yet not overly sweet.
Irish Luck! (Seasonal Flavour) – As I said, I am a lover of alcohol in desserts and this selection featured one of ice cream's favourite spirits – Irish Cream. The ice cream was smooth and the flavour of the Irish cream was pleasantly noticeable but not dominating. A pipette of Irish cream is given along with two pirouette cookies that added a nice contrast in texture. Both ice creams had good mouthfeel (the way food feels in your mouth, e.g., creamy, not melting fast).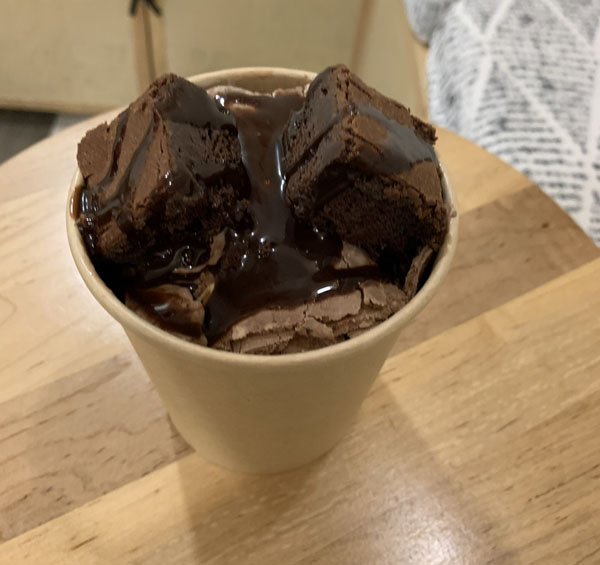 Favourite
Bailey's Brownie Gelato. What can I say, the creaminess, the texture with the brownies added, the alcohol!! They all came together and made this flavour really stand out.
Service
Two lovely ice cream artisans ran the store this particular day and did a remarkable job of it. There were quite a few patrons inside and they handled order placements and executions in a timely fashion. Recognition goes to 'Tiqua', the artisan that made our delicious ice cream selections with a smile.
Summary
Regardless of your preferences, Pulpy definitely delivers tasty ice cream, a cozy atmosphere, and a good experience. If you are an ice cream lover, be sure to take advantage of their seasonal flavours. It is great as a solo outing, with friends and family or a date.
Returnability
Yes!
---
How I Found Out About Pulpy
I first found out about Pulpy through personal recommendations and social media. A family member and a few co-workers mentioned this innovative ice cream spot and I had seen several of their creations on various social media platforms.
My first visit to Pulpy was at their original Village Road location back in 2020. It was on a random afternoon in the heart of the pandemic that I decided to escape the confines of my apartment for a treat. Due to covid restrictions, I was not able to see the ice cream being made, but I remember thoroughly enjoying the ice cream and that fueled my desire to return. This was my first time at Pulpy since that visit a few years ago. It was impressive to see the new location and menu expansion and to finally witness the live ice cream show.