By: Gabbi Sawyer
This is the time of year that most people forego weight-watching, calorie-counting and dietary restraints of any kind. Whatever their stomachs desire, they indulge in. The sweet-tooth is especially catered to.
In the Bahamas, the most popular desserts for this season are rum cake, fruit cake, guava duff, pineapple upside down, cheesecake, pumpkin roll and the often overlooked but crucial–cookies!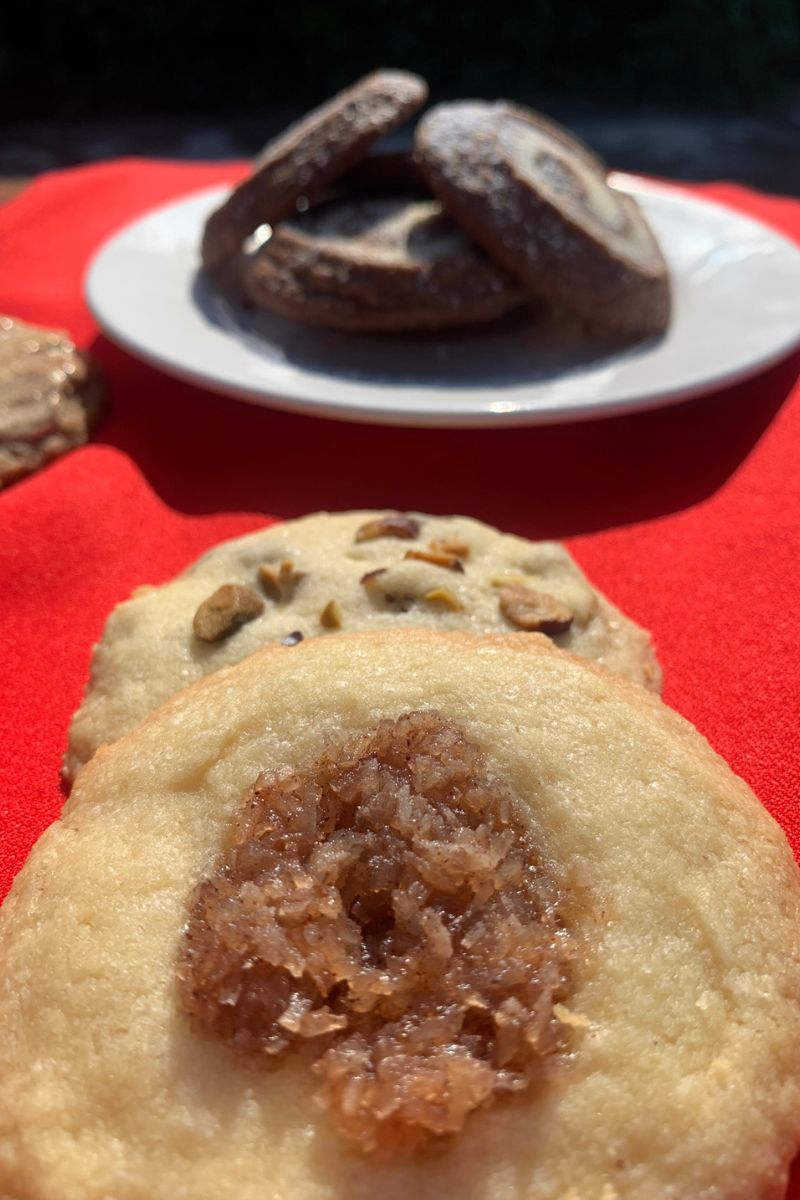 Cookies are that dessert that don't really feel like a dessert; therefore, you can eat a little extra. They're like a slice of cheesecake, chocolate cake and a scoop of ice cream–but without the guilt. I wouldn't necessarily deem cookies healthy (although there are alternative ingredients that can make them healthy), but perhaps when compared to Grammy's fruit cake that has been getting doused in dark rum since September…
Cookies are soooo simple and so versatile. They're a quick task for adults and a fun task for children…and an easy clean up too!
Of course, there can be a bit of a mess if you go the gingerbread house/decorated sugar cookie route, but we're going to keep it deliciously simple.
I'm technically giving you two recipes, but one is extremely versatile and can easily be turned into 15+ different types of cookies.
Happy Baking!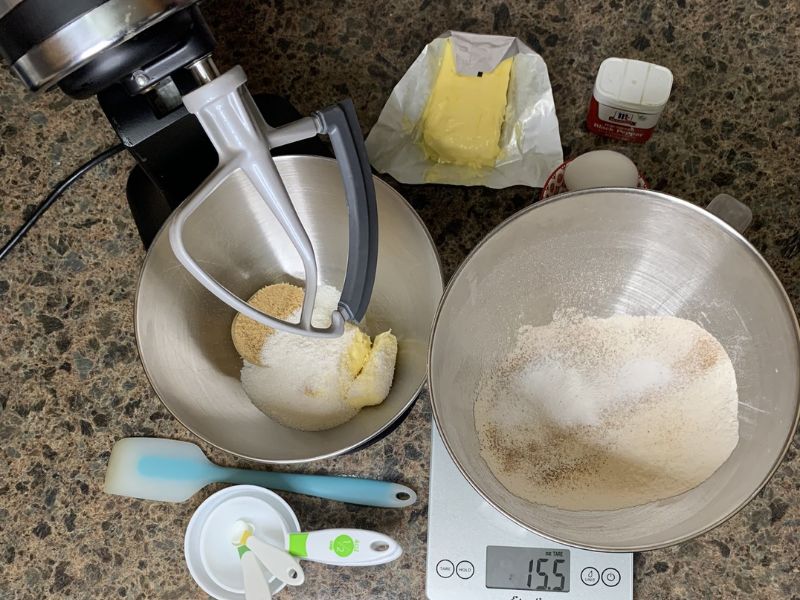 ---
Chai Cookies (Eggless) with Coffee Cream Cheese Frosting
Yields: 16 large cookies or 32 small cookies
While pumpkin spice is usually the star of the show for the latter months of the year, chai is greatly underrated. Chai is a combination of cinnamon, ginger, coriander, cardamom, allspice, cloves, nutmeg, star anise and black pepper…yep, you read right, black pepper. Some versions of it can vary, using instead just a few of the spices listed. The best part is that you can mix up a bowl of chai spice using ingredients that are likely to be in your cupboard.
I decided to make this recipe eggless, because why not? At the current price of $7.45 per dozen, I thought I'd save myself a few dollars and use an egg alternative. Ground flax seeds when mixed with a liquid take on a gelatinous state (goopy), that is pretty cool. It is a great egg replacement when using recipes where the egg acts as a binder and it is also a great source of Omega-3. (Some recipes need the egg to be a leavening agent, so in that instance you'd use an alternative egg replacement). If you would prefer to use eggs, you can replace the milk and flax seeds for two room temperature eggs.
This cookie dough is be softer than the average cookie dough, but I promise you that it crisps up when chilled and baked long enough. The edges will be crisp while the center is soft and chewy.
The cream cheese frosting is completely optional. The cookies taste amazing on their own, but if you are looking to jazz them up a bit, the frosting is the perfect compliment.
Ingredients:
1 cup butter, softened
2/3 cup brown sugar
2/3 cup white sugar
6 tablespoons whole milk
2 tablespoons ground flax seeds
2-¼ cup AP flour
2 teaspoons baking powder
1-½ tsp ground cinnamon
½ teaspoon ground nutmeg
¼ tsp ground allspice
1/8 teaspoon ground cloves
1/8 teaspoon ground ginger
2 pinches of black pepper
1 teaspoon vanilla extract
Pinch of salt
Frosting Ingredients:
4 ounces cream cheese, room temperature
5 tablespoons powdered sugar, sifted
2 teaspoons coffee extract
Ground cinnamon, for dusting
Directions:
Stir together milk and ground flax seeds and set aside.
In a stand mixer or in a large bowl with a hand-held mixer, lightly cream butter and both sugars, just enough to make one homogenous mixture.
Add in the flax seed mixture and vanilla extract.
In a large bowl, sift together all dry ingredients and add to butter mixture until it is thoroughly mixed. Cookie dough will be soft.
Scoop with a cookie scoop of desired size. Chill for 1 hour.
Preheat oven to 350°F.
Place the cookies on a sheet, leaving enough room for cookies to spread. Bake for 12-15 minutes or until edges are golden brown and crisp. Cool.
Mix cream cheese, sugar and coffee extract until smooth.
Top cookies with frosting and dust with cinnamon.
---
Shortbread Cookies
Yields: 10 medium-sized cookies
Now, let me tell you why shortbread cookies are the absolute BEST. They're simple, fast, delicious and can be flavoured in countless different ways…need I go on?
Shortbread cookies are an age-old tradition in my family and I remember making them countless times as a child.
The key to good shortbread cookies is the temperature of the butter. While the butter should be in a softened state, it should not be too soft. The butter should be firm enough for your finger to leave an imprint in it when touched. The other key is not overmixing the cookie dough, as this can also soften the butter and consequently make the dough soft.
Another key element is the sugar. This recipe can use granulated sugar or powdered sugar interchangeably. I personally prefer granulated sugar because this leads to a crisper cookie. If you want a cookie that is slightly softer, use powdered sugar and reduce the baking time.
And now for the BEST part of shortbread …the inclusions. Here is your chance to make the cookie your own. Once the dough is made, you can add in ingredients of your choice to enhance the cookie. Be careful not to add in anything with liquid because it can alter the consistency of the cookie dough and make the cookie too soft.
For this recipe I made a chocolate swirl cookie, pistachio cookie and a coconut tart cookie (how could I not include a Bahamian element).
Other ingredients that can be added are chopped nuts, chocolate chips, coconut flakes, dried fruits, spices, jam (a dollop in the center) and much more, get creative!
Ingredients:
1 cup butter, softened (not too soft)
½ cup granulated sugar
2 cups AP flour
1 teaspoon vanilla
Pinch of salt
Directions:
In a stand mixer or mixing bowl mix together the butter, sugar and vanilla extract (do not overmix).
Sift flour and salt into the butter mixture and mix until combined.
Scoop. Chill dough.
Preheat oven to 350°F. Bake cookies for 10-12 minutes or until the edges are golden brown. For a crisper cookie bake a little longer.
**To make the chocolate swirl cookies I separated half of the cookie dough and added a tablespoon of sifted cocoa powder to half of it. With a rolling pin, I rolled the chocolate and plain cookie dough on top of each other between parchment paper and chilled for 10 minutes. I rolled the two layers in a spiral, chilled for 5 minutes and then cut to about ¾ of an inch thick (See pictures).