Not a fan of tofu? The good news is, there's another soy-based plant protein on the market. 
Tempeh, which sounds like tem·pay, is a soy-based protein made of whole cooked, then fermented soybeans. It's formed into a firm, dense cake and sold refrigerated. 
Because it's fermented, tempeh has more flavor than tofu. The flavor is described as earthy, umami, and almost mushroom-like. 
Tempeh is similar to tofu when it comes to versatility. Slice it, cube it, crumble it then bake it, fry it or sautee it. Tempeh can be added to a variety of different recipes, as it adapts the flavor of whatever dish it's added to. There are also many tempeh bacon varieties on the market. 
With more than 20g of protein per cup, tempeh is a fantastic complete plant protein. Tempeh is also a great source of prebiotics and it's packed with vitamins and minerals, like iron, manganese, magnesium, phosphorus, and calcium.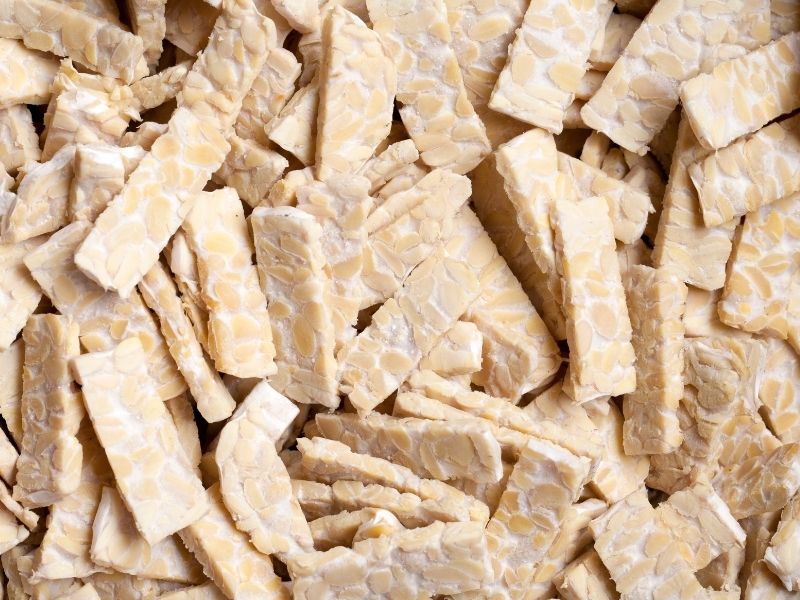 Although tempeh is delicious in pasta sauce, breakfast hash, tacos, or sushi bowls, our favorite way to prepare tempeh is simply cooked in a pan with some olive oil, salt, and pepper. This is a great base way to prepare the tempeh, making it easy to add to whatever you're eating.
Here's how to do it:
Heat a non-stick or cast-iron skillet with a bit of good cooking oil. We like organic extra virgin olive oil.

Open your package of tempeh and slice it horizontally into thin strips.

Arrange tempeh in the pan. It's best if they don't overlap, but it's okay if some pieces do.

Sprinkle with salt & pepper and let tempeh brown on one side, rearranging every so often so it doesn't stick.

Carefully flip the tempeh slices to brown the other side. Sprinkle again with salt & pepper.

Continue flipping and rearranging tempeh slices until everything looks nice and golden brown.

Remove from pan and eat as is or add to your favorite recipe. 
Show us your tempeh creations! Share & tag us on Facebook and Instagram.