By Diane Phillips
A leading real estate company is partnering with the world's top property auction firm to do what seems unreal. They are auctioning off a dream.
Bidding is open now on the Concierge Auctions site for the Governor's Harbour, Eleuthera property known as Hut Pointe.
"For most people, the name Eleuthera conjures up pictures of beautiful waters, pristine beaches and price tags as high as the island's rolling hills," says Tim Rodland, managing partner and broker at Better Homes & Gardens Real Estate MCR Bahamas, the Bahamas-based firm partnering with Concierge Auctions.
There was just one slight challenge. The 2-acre property that would have commanded a record-vying sum on the beach was inland. Owners wanted to sell and the combination of Concierge Auctions' global database and marketing prowess along with Rodland's local knowledge was a natural.
It was not the first time Concierge and BHGRE MCR had paired up. This time, Rodland took a gamble.
He contacted an architect, sent him photos and specs of the property and gave him free rein. Draw what you dream this could be, he said. And the architect did. He turned a property that was being offered for a relatively low sum, $2.6 million with a reserve of $1.1 million, into something that looked like a minimum of double-digit millions. He created renderings of a resort with suites and villas, tennis courts, a rooftop restaurant with sea view, two-and three-bedroom suites overlooking a contemporary pool or lavish botanical and organic gardens, cozy coffee shop, altogether a place so lush and inviting it does not matter that the famed beaches are a few minutes' walk away instead of right outside your doorstep. And the style? Contemporary Caribbean.
"The site has a great deal going for it – close to the beach on one of the most sought-after islands in the hemisphere, an existing solid, historic structure with seven bedrooms, another nine in smaller buildings, mature gardens, a 180,000-gallon water harvesting system, solar panels and the prospect of 10 years with no property tax," Rodland said. "But we knew that beyond what existed, the potential was exponential so instead of asking prospective buyers to use their imagination, we wanted to show what the dream would look like if you closed your eyes and let yourself imagine the possibilities."
Rodland and Concierge agree the site cries out for redevelopment.
"One of the most significant investment considerations is that it could well qualify for the benefits of the Hotels Encouragement Act which would allow for the duty-free importation of building supplies, allowing the buyer to develop at a reduced cost," explained Rodland. "The historic building, which was built in 1944 as the island home of the country's first premier, can become part of the new development."
Concierge Auctions, which worked successfully with Rodland on another recent offering in Eleuthera, loved the idea of taking the guesswork out of seeing the potential.
"The first time we looked at this property," said Danny Prell, Concierge Auctions Director of Business Development, "I knew it had potential far beyond what exists today. Tim Rodland brought that potential to life. He took the guesswork out of our request for viewers online to use their imagination."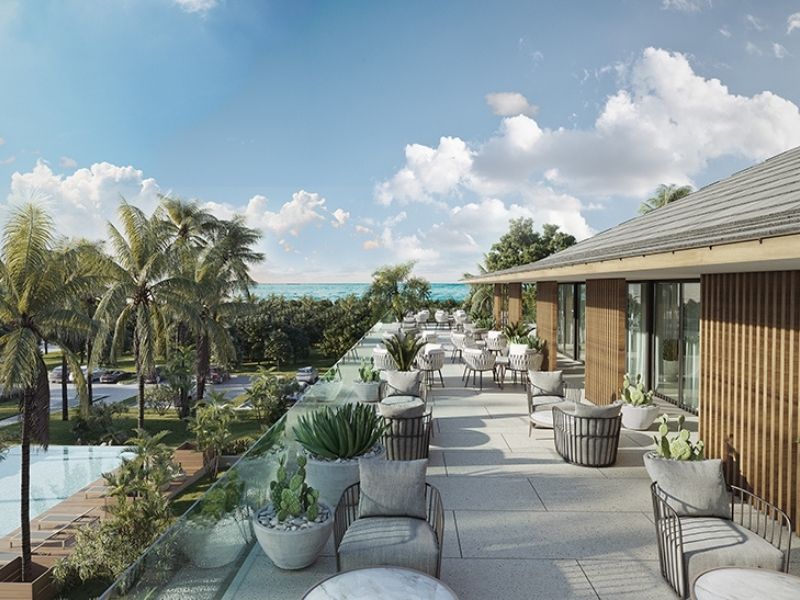 Along with the seven bedrooms, the main house features a second storey deck running along the length of the building which is so solid it has been used as a safe haven by locals during storms. The entire structure was upgraded a few years ago, including solar panels. There are two smaller single level structures. New drawings show expansion of one of the smaller structures into a much larger facility with capacity to become a venue ideal for special events.
"We know that we are selling potential along with a sense of history, but we also want buyers to feel a sense of wonder because Eleuthera is a magical place," said Rodland. "Where else do you have more than 200 miles of coastline on a single island where the sea is never more than a few miles away and where from north to south of the 110-mile stretch, the landscape and the communities are so interesting and diverse you can never be bored. Where all can you have world-class diving, fishing, and be within driving distance to three airports or a ferry dock taking you to other islands including Harbour Island with its pink sand beaches or the thriving village of Spanish Wells?"
For Prell, the property is all about unlocking the potential.
"Hut Pointe is like that big, ripe pear, full and just waiting for someone to notice it and pick it. It's a gem in the world of properties with potential," he says.
ABOUT BETTER HOMES AND GARDENS REAL ESTATE MCR BAHAMAS 
BHGRE MCR Bahamas is a leading, full-service, multi-lingual real estate firm specializing in sales, leasing, appraisal and property management of homes, condos, luxury real estate, private islands and waterfront properties as well as commercial, resort and residential properties in Nassau, Grand Bahama and throughout the Family Islands of The Bahamas. In 2016, it became the first firm outside the United States to be awarded a Better Homes & Gardens franchise.
ABOUT CONCIERGE AUCTIONS
Concierge Auctions is the largest luxury real estate auction marketplace in the world with 90%+ market share and the most comprehensive database of high-net-worth property connoisseurs on the planet. Its listings have been featured in The Wall Street Journal, New York Times, Fortune, CNBC and most international property publications.