What's for dinner?
This can be a difficult question when your stomach is growling and you're looking at a fridge full of ingredients. Instead of instant noodles or a PB&J, try these dinner hacks to get a delicious meal on the table any day of the week.
Frozen vegetables are flash-frozen at the peak of freshness, cost-effective and they'll stay good for months. Microwave or boil them separately, or toss them into almost ready dishes so that they'll thaw them out before serving.
Some of my favorites are green peas, sweet corn, and fun blends like stir-fry mix. Keep an eye out for sales and stock up when you can!
Sheet pan roasting is a great way to batch cook food and keep clean-up to a minimum. Simply split the pan into quadrants, filling each one with a seasoned veggie or protein. Then roast until ready! 
Pro-tip: wrap your sheet pan in aluminum foil for the quickest clean-up you've ever seen.  
Rice cookers are amazing for cooking grains. Be sure to rinse your grains really well before cooking. You'll also want to get your ratios right when it comes to grains to water. Here's a fantastic guide to help you. https://wholegrainscouncil.org/recipes/cooking-whole-grains
Jazz up your grains by stirring in frozen veggies, a jar of salsa or cooking the grains in broth instead of water.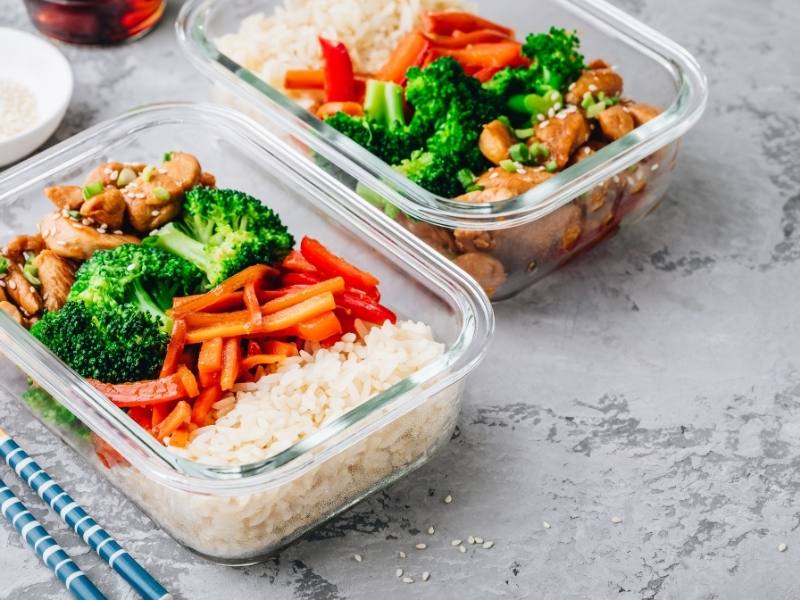 Make extra of anything you're going to spend time cooking. If you're going to be in the kitchen, be mindful to make food for now and for later. 
Go one step further and portion out meals into reusable containers. Keep it balanced by adding protein, healthy carbs, and vegetables to each one. You'll have healthy and homemade dinners for the week ready to eat when you are.