This Winter Salad is proof that not all holiday food needs to be naughty. 
Delicious, nutritious and oh so satisfying. The colors, textures and flavors are festive and bright, just like the holiday season.
This Winter Salad has seared vegan chicken, cubed roasted sweet potatoes, a bed of massaged kale, candied pecans, slivered red onions, pomegranate seeds and a delicious pomegranate vinaigrette.
The recipe for this salad was inspired by one of my favorite vegan content creators, Caitlin of From My Bowl. The idea came from her Winter Salad with Pomegranate Vinaigrette. The addition of seared vegan chicken and roasted sweet potatoes makes this salad a meal. 
You could always keep your pecans raw, but they are a sweet, crunchy treat when candied. It only takes a few minutes and Caitlin's recipe is so easy. I probably could have cut her recipe in half because I had pecans leftover, but let me tell you I was not complaining. I ate them on top of oatmeal, ice cream and even just as a snack!
The pomegranate vinaigrette is slightly sweet, slightly tangy and is a delicious and festive salad dressing. It uses fresh pomegranate juice along with balsamic vinegar, dijon mustard and heart-healthy olive oil.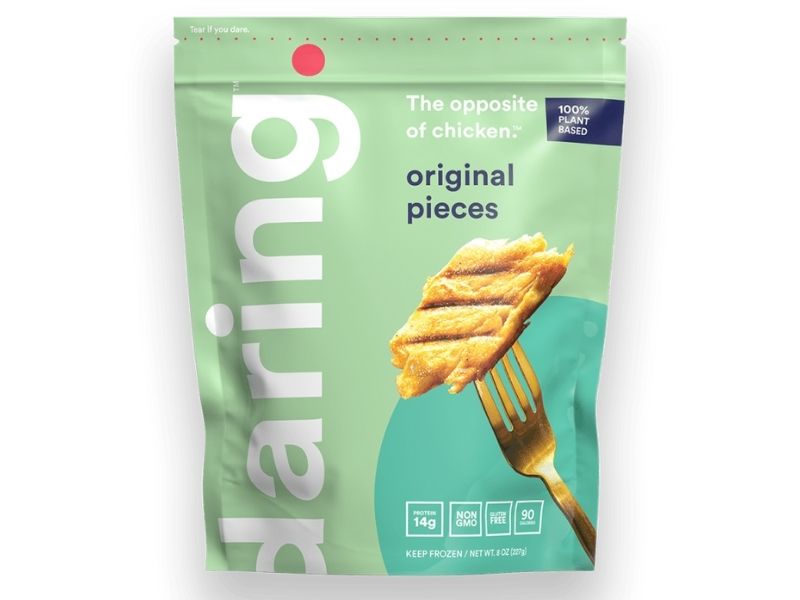 I used Daring chicken for this Winter Salad. It sears up beautifully in the cast-iron skillet. I dry seasoned it with chili powder, garlic powder, salt, pepper and smoked paprika. Once seared, I chopped it up into smaller bite-size pieces. 
If you're unable to find Daring chicken, you can use another vegan chicken. Seitan strips or vegan sausage would be just as delicious!
The sweet potatoes were partially peeled and chopped into bite-sized pieces. Then I tossed them with olive oil, salt and pepper with a sprinkle of thyme before roasted them until soft.
The only measurements you need for this recipe are the ones for the dressing and candied pecans, if using. I highly suggest taking this extra step! You can find the recipes for both on Caitlin's website.
To put everything together, I started by massaging a bed of kale with some salt and pepper. I also picked out any big chunks of stems. Massaging the kale not only reveals a brighter green hue, but it also softens the kale making it easier to chew and digest.  
Then I arranged all the toppings atop the kale: roasted sweet potato, seared chicken, candied pecans, slivered red onion and pomegranate seeds. The dressing should be kept separate and served along side the salad.