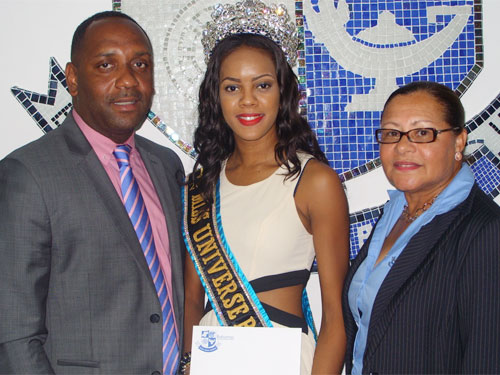 The Bahamas Technical and Vocational Institute (BTVI) presented a scholarship grant to Miss Universe Bahamas, Lexi Wilson on Tuesday.  Making the presentation to the newly crowned queen was BTVI's Manager and Consultant, Dr. Iva Dahl, who apprised Lexi of the history of the premier vocational and technical institution and the programs offered.
Lexi expressed interest in the business subjects, particularly as she wants to one day own and operate a dental practice. She added that, "It is always good to accept new learning opportunities."
As recipient of the scholarship grant, Lexi will receive financial assistance for the cost of her registration fees, tuition and graduation fees while enrolled in her chosen program.
According to the pageant's Vice-President of Media Relations, Jerome Sawyer, it was Lexi's first official prize since winning the coveted title.
The Bahamas Technical & Vocational Institute
NEW LEARNING OPPORTUNITIES – Manager and Consultant of The Bahamas Technical and Vocational Institute (BTVI), Dr. Iva Dahl presents Miss Universe Bahamas, Lexi Wilson with a $6,000 scholarship grant to the institution. Accompanying the beauty queen was the pageant's Vice-President of Media Relations, Jerome Sawyer