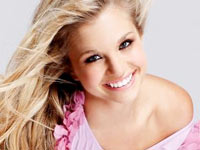 Paradise Island, Bahamas — The 2012 MISS TEEN USA Competition will be streamed LIVE this Saturday, July 28 from the beautiful Atlantis, Paradise Island in the Bahamas at 8 PM ET on www.missteenusa.com and www.seventeen.com. Danielle Doty, Miss Teen USA 2011, will crown her successor at the conclusion of the two-hour live event.
Hosting this year's pageant will be Miss Teen USA 2005 and sports reporter for "Fox8 News," Allie LaForce and executive producer of iPowow, Colin Hornett. The presentation show, scheduled for Friday, July 27, will be hosted by Miss Teen USA 2011, Danielle Doty and Los Angeles-based author, and comedian, Nick Teplitz.
This year's distinguished panel of judges included: Maruchi Santana, Chief Client Officer at Parham Santana: The Brand Extension Agency; David Knapp, Account Director at Parham Santana: The Brand Extension Agency; Tami Farrell, television personality, pageant veteran and first Youth Spokesperson for the American Heart Association; Dara Busch, Executive Vice President and Managing Director at Rubenstein Public Relations; Stefan Campbell, Producer and Creative Director at OBO, a luxury production company specializing in high-end events and fashion presentations; and Tanya Zuckerbrot, MS, RD, Creator of the popular F-Factor Diet and Registered Dietician as well as best-selling author, brand spokesperson and TV personality.
For the first time ever, the Donald Trump-owned Miss Universe Organization kicked off a fan vote for the MISS TEEN USA® competition. Fans can vote online for their favorite Miss Teen USA contestant, earning one lucky girl a spot in the semifinals. Voting takes place until Friday, July 27 at 12 PM ET online at either www.missteenusa.com , or at www.facebook.com/officialmissteenusa .
Throughout the event, the 51 contestants will compete in three categories: swimsuit, evening gown and interview. Doty, who will pass on the crown to the new winner, will return to Texas to begin her freshman year at Texas Christian University to pursue a degree in broadcast journalism.
About MISS TEEN USAThe Miss Universe Organization, a Donald J. Trump and NBCUniversal joint venture, is a global community empowering role models of beauty, health and leadership for young women of today. As part of the Miss Universe Organization, Miss Teen USA is dedicated to partnering with charities around the world, and to increasing awareness of teen issues. For more information, visit: www.missteenusa.com .
SOURCE The Miss Universe Organization