Writer: Mia G
At #90 Wulff Road in Nassau sits the legendary Rachel's Boutique, founded by Bahamian Fashion Designer Nathalie Rachel Turnquest-Garcia.
Nathalie Rachel Turnquest, was born on November 29th,1935. She was a pioneer in the Bahamian Fashion Community and a legend to many. In fact, many would say that her name was synonymous with excellence.
With the limitations presented to her, she made the best of her experiences. She attended an All Age School in Sandy Point Abaco which only provided Primary School education. Yet, she went on to open her very first store/ fashion house – Rachel's Boutique – on Lincoln Boulevard, Nassau, in 1963.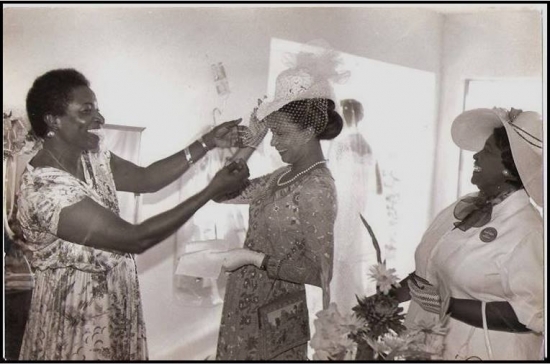 Fashion was a longtime passion for Garcia and this passion inspired her beautiful designs. She was captured in a photo accompanied by Dame Doris Johnson and then, Lady Pindling. She was highly respected and well known to not only the Bahamian Fashion community but her work was also acknowledged throughout the world.
Rachel's Boutique served as not only a fashion house, but also offered a range of fashion services and accessories. The boutique provided fabrics, costume jewelry, bridal attire, school uniforms, and a full service dressmaking department. Rachel eventually gained a reputation for her unique, handmade wedding dresses. Rachel's boutique also provided a learning environment and internship for young, aspiring fashion designers.
Over the years Designer Rachel Turnquest-Garcia was presented with numerous awards acknowledging her excellence in the Fashion Community.  These awards included:  The coveted Jean Clive Pugh Fashion Excellence Award, the Quality Fabrics Pioneer Award, the Zonta Club of New Providence Living Legends Award for Garment Manufacturing, the Bahamas Garment Manufacturing Lifetime Achievement Award, and the Bahamas National Gospel Excellence Award for Fashion Design and Consultation and the list goes on.
Her impeccable quality was not only reflected through her dresses but also, later, through her eye-catching hats. Yes, Rachel also carried the title of Milliner ( a person who makes hats). In the making of these unique head pieces, she used a number of materials
including, Parasisal, Sinamay, and Swiss Straw, made by hand on wooden millinery blocks designed by designer Turnquest-Garcia and imported from England. She would mix and match a number of crowns and brims, and would also blend dyes to create unique/personalized colors for her clientele.
On the morning of February 2nd of 2015, this national icon passed away quietly at her home in Eastern Estates, at the age of 79. Her legacy carries on at her boutique on Wulff Road.