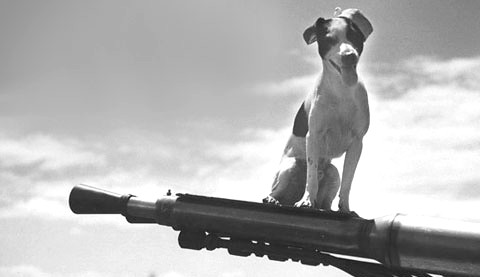 Few will disagree when I say that the proliferation of unlicensed firearms are wreaking havoc on The Bahamas, especially in Nassau.
But I might raise a few eyebrows when I say that unlicensed dogs are too.
It's true!  The Bahamas Humane Society estimates there are over 70,000 stray dogs in The Bahamas.
A rampant stray dog population, coupled with an almost complete lack of enforcement of any animal-related laws is creating more than a small social disturbance.
What do you think needs to be done about stray animal overpopulation in The Bahamas?  –  Let us know in the comments.
The problem affects our society in a myriad of ways, from economic to tourism, to the decay of law and order.
The Bahamas Humane Society and the government "Pound" spend millions of dollars per year dealing with neglected, sick, wounded and abused animals. Even if the lion's share of that money comes from private donors, it is money that could go towards other things but, instead, is being spent on something that shouldn't be happening.  Other groups like Proud Paws, BAARK! and Stray Busters have also spent plenty of time and resources trying to solve a problem that shouldn't exist.
Even tourism, our economic engine, isn't spared the problems that arise from the failure to enforce laws related to animals.
A tourist was attacked by a pack of dogs, owned by irresponsible guardians in Harbour Island. That little incident made the international news and wasn't exactly the picture of our vacation paradise that we want to project.
More than a few tourists have written to this website saying how they would never visit The Bahamas again because the sight of all those abused and neglected animals ruined their vacation.
By not enforcing the laws related to animals, we send yet another message to young Bahamians, that it is not really necessary to obey the law in The Bahamas.
We send the same message by turning our heads away from illegal gambling, rarely prosecuting and punishing serious crimes and ignoring government and public service corruption.  But those are subjects for other posts.
Many of the worst criminals throughout history began their evil ways as children who abused animals. By continually failing to properly punish animal abusers we help set the path to an even more violent society.  I'll bet there is a direct correlation between instances of animal abuse or neglect and murder, in every society.  No matter, there is far too much of both in The Bahamas.
Guns aren't necessarily a bad thing. When properly enforced and treated with respect, they can be useful, used for sport or simply provide comfort and security at home.
The same with potcakes.
Some people say that "Guns don't kill people, people do."
Even if you don't fully agree with that statement you have to admit that people, especially evil or irresponsible people, are behind the damage that guns do to society.
This is even more true regarding potcakes. They are actually harmless little creatures.  But irresponsible people have allowed them to run amuck throughout our islands creating a problem.  Potcakes are not our problem, people are.
The government needs to enforce the laws regarding animals and issue guidelines for proper animal stewardship.  Neglecting and abusing animals is the kind of stuff that people do in Nellie Day's Bahamas, you know, where we live in straw huts on the beach.
This is the modern Bahamas of 2012. We need to make it "Better in The Bahamas" for animals too.
As always, I thank you for reading and would really appreciate your comments, below.
The video was created by by Christopher Guinness from Jamaica.