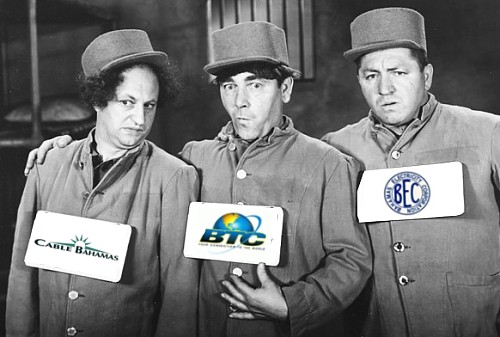 Right off the bat, let me say that I am a customer of these companies and I realize that there are a number of competent, hard-working employees at each of them.  I respect and appreciate the job that those good employees perform.
But on the whole, these companies are inhibiting the growth and profitability of businesses in The Bahamas or, at the very least, creating an inconvenience for their customers.  All three of them can, and must do better.
To what degree have service outages affected your business?  Let us know in the comments.
¿Hablo Ingles Cable Bahamas?
OK, who else is tired of Spanish language programmes, commercials and captions?
Hey, I love Spanish people.  Some of my best friends are Spanish.  But I speak English and so does everyone else in my house.
And when I subscribed to premium cable channels at Cable Bahamas, many years ago, I signed up for English-speaking cable television.
So, why am I now paying more money, for less channels and watching Spanish language TV?
What about the people who are hard of hearing and need to read the closed captions?  They are in Spanish.
Are they going to pay for my Grandma's Berlitz courses?
I am sure some of the more knowledgeable readers of this blog will inform me of any number of seemingly valid reasons why Cable Bahamas has problems providing the service I pay for. But do you know what?  I don't care.
All I know is that I am paying $90 a month for cable television with premium channels and I want to be able to understand what the people are saying and be able to read the damn captions.
Can You Hear Me Now BTC?
Upgrade?  What kind of an upgrade is no service?  Especially when I am still paying for service?
These people must have worked on the New Providence Road Project.
"We're going to upgrade the roads."
Well, as a small business owner, looking to make it easier for customers to visit your shop, that sounded like a good idea.
But they didn't tell you they'd put you out of business to do so.
And that's exactly what BTC is doing to many small businesses when they provide absolutely no phone service for an entire day. And sporadic service on other days.
I'm sure Marlon, Jerome and Geoff can tell me all about copper thieves, sabotage or all sorts of technical mumbo-jumbo.
Again, I do not care.  Hire security guards, buy better equipment, fix it, whatever!  All I know is I pay for service, I expect to receive it.
Find me a business person in The Bahamas today who doesn't rely on their cellphone to conduct business. I don't know any.
One step forward, two steps back won't get you very far.
The Dark Knights at BEC
A bright, sunny day, not too hot, no storm, not even rain. Boom!  The power goes out.
First thing on a Monday morning, just getting the kids off to school and heading to work.  Boom!  The power goes out.
Sunday dinner time, family over, a little respite from the busy work week. Boom!  Power goes out.
I mean, really!  Isn't this what they do?  It's not like we're asking BEC to do something strange or something outside their business model.  This is what they do… or are supposed to do… provide power.
Again, I am sure the top brass at BEC can write me, or leave comments that seem to justify, or at least explain, why the power went out on any of the many, many occassions it has.  Idiots with ladders, blown generators, trucks driving into transformers… who cares?!
We pay these people to provide power and except in cases of real emergencies, like hurricanes or really bad storms, we expect to get what we pay for.  It is their job to make their system work, even under adverse conditions.  After all, the rest of us are expected to soldier on depsite the fact that they are making us live under adverse conditions.. like not having power.
BTW: we pay some of the highest electricity rates around.  For what?!
And despite their claims to the contrary, I don't know anyone who has ever been compensated for the loss of equipment due to BEC's on & off power fluctuations.
Unlike Cable Bahamas and BTC, BEC is a government corporation, so you'd think the government would exercise some kind of control over the situation and correct it.
If Perry Christie and his PLP really wanted to put Bahamians first, they would clean up the management of that company and make it run smoothly and efficiently.  Government officials should ensure we receive the uninterrupted power we pay for.  That's what we pay them for.
Is it wrong of me to speak out?  Am I nuts to expect to get what I pay for and what these companies have contracted to provide?
It's difficult for The Bahamas to move forward, onward or upward if we don't have access to quality, efficient and affordable utility services.
If we really want to make it "Better in The Bahamas" all three of these companies must do a better job.
Are you "mad as hell" and not going to take it anymore?  Let us know in the comments.