A national conversation on creating jobs.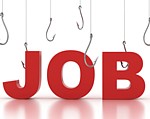 Prime Minister Perry Christie says 43,000 new jobs are needed to reduce the record unemployment levels.
That figure might be based on achieving 100% employment, which, while a noble goal, may not be possible in today's world.
If Mr Christie were able to reduce unemployment to 5-6%, even his staunchest critics would applaud him.
Jobs are important from both an economic and social standpoint. The more people who are working, the more money is being put into the economy. And when people have jobs, especially young men, they are less likely to cause trouble, thereby reducing crime.
Should jobs creation be the PLP's number one priority?  Tell us what you think in the comments.
In its pre-election charter, the Progressive Liberal Party said it created 22,000 jobs in its last term in office (2002-2007). That figure has been challenged and never been confirmed. More importantly, the charter committed the PLP to surpassing that figure over the next five years.
According to the document, the PLP's job creation plan will be anchored in four areas:
1. effective promotion of The Bahamas at home and abroad;
2. the removal of impediments to business so that government facilitates the growth of business;
3. increasing opportunities to dramatically expand the role of Bahamians as employers
4. have the government act as a direct investor in carefully defined circumstances.
If we can pump up tourism by exploring new markets, and get the airlift we need, we can create thousands of jobs in the hospitality industry.
Some people complain because many of those jobs would be bussing tables or changing sheets, but there are a lot of people who would be happy just to be back to work.
And no doubt, there is much room for growth in the creation of jobs in other industries.
The Bahamas Agricultural & Industrial Corporation (BAIC) has some good ideas along the lines of handicrafts manufacturing and agriculture. Both these areas would not only create jobs, they would also allow much more money to stay here in The Bahamas as imports could be reduced.
Entrepreneurship and completely new types of jobs need also to be created. As Mr Christie said yesterday, "…we have to find innovative ways to create jobs."
Indeed!
In his comments yesterday, Mr Christie also said:
"The country obviously needs to be in a position where we begin a national conversation on how we are going to go about sourcing those jobs, [and] where they're going to come from."
Let's start that conversation.
Do you have solutions to reduce unemployment?  Tell us in the comments.