May 11, 2012 will go down in fashion history as one of the most electrifying nights ever. It was a full house Friday evening and hundreds gathered to the premier spring/summer edition of Islands of the World Fashion Showcase.
Only standing room was available at the Sheraton Nassau Beach Resort's ballroom for the much anticipated event where 11 designers, representing the island nations of The Bahamas, Barbados, Guyana, St. Lucia and Trinidad and Tobago, debuted their collections to the world. From racy swimwear to dynamic resort wear with asymmetrical embellishments, the showcase kept its captivated audience speechless.
The designer lineup included IWFS veterans Darcel de Vlugt from Trinidad & Tobago, David Rolle, Theodore Sealy and Harl Taylor BAG, all from The Bahamas as well as Chelsea Johnson, Courtney McIntosh and Derrica Williamson from The Bahamas, Alexis Campbell and Kesia Estwick of Barbados, Carol Fraser of Guyana and Sharleen Lagon representing Saint Lucia.
Inspired by various genres and time periods, each collection clearly expressed themes in a cohesive and spectacular way.
"I think we had a great turnout and the audience enjoyed the show fully," said Indira Moss, production manager for the event. "It was clear that the designers put their hearts into each piece of their collections and it showed through their attention to detail and mixture of fibres and textures.
"It was all different. Months of hard work paid off and we were very impressed with what they accomplished. I'm confident they will all be successful in the future."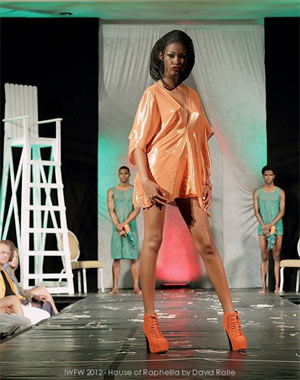 Aside from the dynamic work of the fashion designers, the showcase also paid tribute to the late Jackson Burnside through the innovative creations of the participants of the Jackson Burnside Fashion & Design award. Architect Val Pintard, designer Apryl Burrows, interior designer Elizabeth Clarke and draftsman Reuno Pratt took on the challenge of creating one-of-a-kind wearable garments made from materials used in the built environment. The result – an inspiring display of ingenuity and creative know-how that stunned the audience.
A high-eneergy acrobatic dance routine by the Silk and Steel dance troupe set the stage for the night with an incredible performance. Further performing for the audience were two young up-and-coming Bahamian artistes, Shaton and Zee who graciously accompanied the ExÎles Explosion – a male lingerie spectacle that showcased jaw-dropping pieces from international couture lingerie houses CoutureBoy and Lee Greggory.
The following evening, four lucky participants took home the coveted prizes from the event as well as bragging rights for one year.
The Jackson Burnside Award was handed out to Elizabeth Clarke and Bruno Pratt for their innovative and creative ability. Taking home the Sustainable Eco-Fashion Award was Harl Taylor BAG.
The Culture and Fashion Award which was won by David Rolle from the House of Raphelita and the coveted NextGen Designer award was given to Grand Bahama native, Courtney McIntosh, who could not contain her excitement after winning the award.