NEW YORK – Lenny Kravitz says if his name is on it, then he has been involved 100 percent, and that includes the new collection of Toms shoes. Kravitz's influence is genuine on the new Bahamas beach-meets-modern styles.
"If I'm in, I'm in it all the way," Kravitz says.
When TOMS founder Blake Mycoskie met rock icon Lenny Kravitz in late 2010, they instantly struck a chord over a love of music and simple living.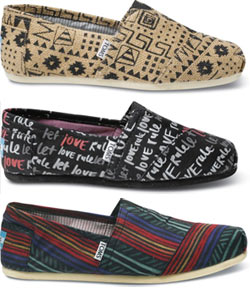 At the urging of Mycoskie's daughter, Zoe, they decided to collaborate on one of the Toms' "shoe drops," possibly in Brazil or the Bahamas this summer. The brand also has a mission to donate a pair of shoes to someone in need for every pair sold.
The style was inspired by Kravitz's one-of-a-kind-design aesthetic and his dedication to creative and low-impact living.
"The thing a lot of people don't know about Lenny isn't just his amazing personal taste in fashion and style, but he also designs wallpaper and furniture, and he sees a bigger picture," Mycoskie says.
Kravitz worked as a guest creative director with Mycoskie and the TOMS' in-house design team. According to Mycoskie,Kravitz's greatest contribution to the collection was to add woven prints, including lyrics from his hit song "Let Love Rule".
Kravitz says the basic Toms look – fabric shoes that aren't frilly or overly structured – fits his wardrobe, even if "they remind me a little of the shoes my mom would wear in the '70s."
Sources: Samantha Critchell Associated Press and TOMS Blog