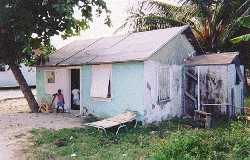 A recent article posted on Travels.com and mentioned in a Nassau Guardian article caused a firestorm in The Bahamas, prompting Bahamians to swarm en masse to social networking sites to protest and assail the author.
The article, written by free-lance writer Nellie Day had to do with living conditions in the Bahamas, with details on occupations, houses and Bahamian society. It made the claim that most Bahamians make their living "farming or selling trinkets at the local straw markets" while poorer Bahamians raid abandoned buildings for scrap material to construct makeshift huts.
And for these "heinous" comments many Bahamians now want Ms. Day "blacklisted," banned from the country, fired from her job and worse… In fact, much of the feedback found on Facebook and Twitter in response to Ms. Day's article has been crude, cruel and alarmingly savage.
Do you think Bahamians overreacted to to Ms Day's article? Tell us what you think in the comments below.
Bahamians were obviously deeply offended by the inaccuracies in Ms. Day's article. The general thought seeming to be that, as a journalist for a major travel media outlet, she had presented a negative and harmful image of the Bahamas. As a tourist-reliant nation our international image is of undisputed importance and times have been tough enough already, so we certainly don't need somebody coming along and making us sound bad, right?
But all of those highly vitriolic responses published on major social networks are even more damaging to our national image. Such an angry onslaught over a silly little article sends a more injurious message about the Bahamas… and Bahamians than did the article itself.
Did Ms. Day really deserve the verbal assault, and even threats? Sure she got some things wrong. But not everything. One blogger points out that actually much of what she wrote was true.
"A lot of people in the Bahamas do live in 'shacks and huts' not all of us, but a significant amount, in both Nassau (where most of the outrage seems to be emitting from) and on the Family Islands… Another fact a lot of them are colorful…"
Another person responded: "there were inaccuracies yes but its not completely FALSE now I lived in Nassau all my life and I've seen these places do u want me to say that I haven't"
Even BahamasB2B received a backlash of hate after tweeting a more comforting message to let Ms. Day know not all Bahamians are so mean spirited. While the B2B tweet did not condone the article, the responding tweets attacked the B2B tweeter, asking if "you want to get dragged too" and stating that "you must have a cyber death wish".
Amongst all the Nellie-bashing there were a few intelligent and well-prepared responses, such as the Facebook message sent by Graham Thordarson.
Instead of verbally attacking Ms. Day and banning her from the country – which is preposterous anyway – perhaps we should invite her to visit and stay a little longer, look a little closer, research a little deeper and write an article that accurately reflects our lifestyles. Although that could be dangerous too. Because looking too closely, one might find that The Bahamas is not quite the vacation paradise our advertising makes us out to be.
As another poster on Facebook said: "…we concerned about the wrong things as usual."
Indeed!
As always, we encourage your comments below.
Photographer Farreno Ferguson created this video response: