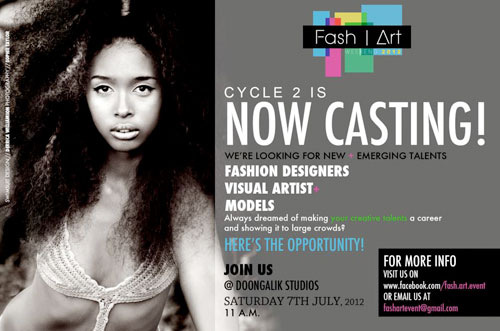 Nassau, Bahamas– The breakout showcase of 2011 returns for Cycle 2, creating a platform of exposure and marketing opportunities for emerging Bahamian talents in fashion and visual arts. This year's event is expected to increase in attendance and visibility, as organizers; Stylezine Magazine and Kedar Clarke, have changed the show's layout. "The event will now be held over an exciting two day period, and subsequently we've dubbed it 'Fash|Art Weekend 2012", says Mr. Clarke.
Participants this year are welcomed from every island around The Bahamas, as it is the organizers' mandate to engage the talents of highly motivated and creatively eager participants. They will compete in three categories; "Harl Taylor Emerging Fashion Designer" award, "Jackson Burnside Emerging Visual Artist" award and the PTG Modeling Agency's "Model Search" competition. Participants will also be hosted to a four-week seminar series that will teach them how to create and cultivate a sustainable business through their creative talents.
Join us on July 7th, 11:00am at Doongalik Studios, Village Road North, and find out how you can become a part of this major event. Emerging fashion designers and visual artists, be sure to bring along at least two samples of your previous work.
Contact us at fashartevent at gmail.com or LIKE us on facebook "Fash Art Event" for more information.
By Kedar Clarke