Investing in real estate in the Bahamas has never been easier. Under the International Persons Landholding Act, approval is granted automatically for non-Bahamians to purchase residential property of less than five acres on any single island in The Bahamas, except where the property constitutes over fifty per cent of the land area of a cay (small island) or involves ownership of an airport or marina.
The new law also provides for a two-year real property tax exemption for foreign persons acquiring undeveloped land in The Bahamas for development purposes, provided that substantial development occurs during those two years.
To view some of the spectacular investment real estate available in the Bahamas see our Bahamas Real Estate listings.
You may also want to browse or search our Directory of Bahamas Real Estate Agents.
A New Government
The returning  Bahamian government of Hubert Ingraham has put out the welcome mat for foreign investors, while promising to make Bahamians masters of their own destiny. Ingraham, an attorney and former Prime Minister, and his Free National Movement, were
elected by a landslide in a general election in May, 2007. The new administration replaces Perry Christie's one-term Progressive Liberal Party (PLP). Before Mr. Ingraham's first electoral victory, in 2000, the PLP ruled for 30 years. The FNM welcomes participation by non-Bahamians who have a vision for the Bahamas and are prepared to help in the evolution of Bahamians to a higher level of social and economic development.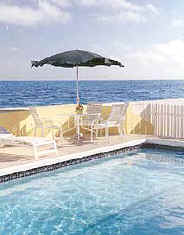 The Bahamas is the closest offshore country to the United States and one of the wealthiest in the Caribbean region.  James Smith, a former Central Bank governor, has been appointed to head the Ministry of Finance. This appointment appears to have the support of both political parties. Smith also has served as an ambassador of investment and trade. Smith said the government's goal is to create equilibrium between the needs of the country and the investor. The Bahamas also had its first woman deputy prime minister, Cynthia 'Mother' Pratt, a former teacher and social worker.
Welcome to Our Islands
The Bahamas is a happy blend of African and European cultures with a heavy American influence. Located within a mere 50 miles of South Florida, it boasts the most incredible powder white and pink sand beaches, and warm, crystal clear water. It's a 700-island chain with the second oldest parliamentary democracy in the British Commonwealth, having obtained independence in 1973. Originally populated by Indians, Christopher Colombus made his landfall in the New World on the island of San Salvador in the Bahamas in 1492. In 1648, a band of Puritans
was shipwrecked off the island of Eleuthera (Greek for Freedom) after leaving Bermuda to escape religious persecution. And then groups of Loyalists (Loyal to the British Crown) fled America after the War of Independence and settled on the island of Abaco, bringing with them African slaves.
The culture of the Bahamas is a rich tapestry of the descendents of these freed slaves, the Loyalists and the Bermuda settlers, with small Greek, Chinese and Syrian communities. Arms smuggling by traders during the American Civil War and Prohibition brought a wave of prosperity to these islands. Today, tourism accounts for at least half the economic activity. (For more information, please go to www.bahamas-travel.info).
Today's Bahamas is one of quaint island villages, great bone fishing and deep-sea fishing, incredible cruising and scuba diving grounds, and endless beaches and sunsets. It's also a Bahamas of towns bustling with commerce, modern supermarkets, fine restaurants, shops, golf courses and casinos. Take your pick. Investor Friendly Policies The Bahamas enjoys strong ties with its closest neighbour to the north – the United States. A stable political environment and investor friendly policies have made this island paradise one of the most desirable countries in which to live and invest.
One of the Bahamas' key attractions is its tax friendly environment. The country does not levy taxes on capital gains, corporate earnings, personal income, sales, inheritance or dividends. This tax freedom is available to all resident corporations, partnerships, individuals and trusts. Corporations find the Bahamas an ideal place to establish a business. Just ask the Bacardi family (Bacardi Rum) and Sir John Templeton (Templeton Investment Fund), who live and have run their international empires from the Bahamas.
The Bahamas also has a thriving second home market. Famous sports figures, such as Barry Bonds, Michael Jordan, Ernie Els and Jim Courier, are property owners at the exclusive Ocean Club Estates on Paradise island. In Lyford Cay, rich and famous home owners include Peter Nygard, Louis Bacon, Sean Connery, Tony O'Reilly and members of the Goulandris (shipping) family, to name a few. The new government is committed to continuing the former administration's "No Income Tax" policy.
Modern Infrastructure
The capital of Nassau sits on the island of New Providence. It is linked by bridge to Paradise Island, home of the world-class
Atlantis resort casino
with the world's largest outdoor aquarium (you can slide through a shark tank in an enclosed acrylic tube). Michael Jordan is a frequent guest on the golf course.
New Providence and a number of other islands boast modern infrastructure, excellent telecommunications, and fine hotels and restaurants. The outer islands, known as the Family Islands, are less populated and more laid back. Settlements range from fun, picturesque towns founded by the Loyalists who fled America during the Revolution, to small, peaceful farming villages settled by the descendents of slaves.
Tourism is the country's leading industry (85% of tourists are from North America), followed by banking. As of the end of September 2001, the Bahamas had 367 licensed banks and trust companies. Barclays, CitiBank, Royal Bank of Canada and CIBC are among the eight clearing banks doing business here. The Bahamas is FATF compliant, which means it meets the international criteria as a country serious about fighting money laundering.
Besides political stability, proximity plays a key role in the country's fortunes. It is because of this proximity that the country has weathered the fall-out from the September 11 terrorist attacks in the U.S. much better than its neighbours to the south. The Bahamas is the closest port for luxury cruises from South Florida. And it's only a 30-minute plane hop away.
Financial Community Holds Its Own
It also is a name to reckon with in the financial community. The Bahamas Financial Services Board (BFSB) was created in 2000 to promote the role of this island paradise in the international community. With industries such as banking, trust services, mutual funds, capital markets, accounting, legal and insurance represented, the BFSB oversees the development of these industries within the international financial arena. During the 1990s, New Providence and Grand Bahama experienced an unprecedented level of growth as a result of investment by locals and non-Bahamians. The tightening of secrecy laws has led to a fall-off in the number of international business companies forming in the Bahamas. But in spite of this set back, theBahamas financial industry appears to be holding its own.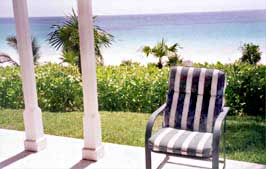 Ideal Investment Environment
Sun International, the international hotel company, invested $850 million in the world class Atlantis resort and casino, and exclusive Ocean Club and Golf Course development on Paradise Island. In Freeport, Grand Bahama, Hutchison-Whampoa, the Anglo-Chinese conglomerate, has established a container port, which rivals that of South Florida, and has teamed up with the local government authority in a massive airport and hotel re-development programme.
What to Look for When Deciding on a Good Investment
When deciding to purchase real estate in the Bahamas it is important to visit those islands that may be of interest. Your intentions for the property are important in making this decision. You may plan on spending time in the place you purchase, therefore you may be willing to sacrifice some return on your investment to be in a place you really desire.
Please contact us if we may be of further assistance.  You may also want to browse or search our Directory of Bahamas Real Estate Companies.
Infrastructure – Make sure your property has electricity, water and telephone. If you have to pay for these amenities it may end up costing you more than you expect.
Special Features – Beachfront is the best guarantee for appreciation. Other waterfront and hilltop sites also are very attractive to buyers.
Neighborhood – Observe the surrounding properties and their condition. Don't get hooked on a pretty house in a poor neighborhood. Chances are you will overpay. Gated communities are a safe bet.
Transportation – This is a more important consideration for the Family Islands. Check the availability of flights to and from the island.
Income Potential – You may want to rent your property while you are absent. Check that the location you have chosen has a market for rentals. Such islands include Harbour Island, Elbow Cay, Green Turtle Cay, Man-O-War Cay are Guana Cay.
Intangibles – There are those items that may not be obvious, such as flooding or termites. You may wish to seek professional advice before you buy.
Our Choices
Since there are many types of buyers we have arranged the following categories with some of our recommendations:
Luxury Residential

Lyford Cay

Paradise Island

Estate Properties

Sandyport

Luxury Condo/Townhouse

Paradise Island

Bayroc

Sandyport

Cable Beach

Residential (Up to $500,000)

Westward Villas

Blair

The Grove

Luxury Investment

Private Islands

Lyford Cay

Paradise Island

Harbour Island

Medium Investment

Vacant Lots (Nassau)

Abaco Cays (Beachfront)

Eleuthera (Beachfront)

Exuma (Beachfront)

Small Investment

Crooked Island (Beachfront)

Abaco Cays (Hilltop)

Exuma (Hilltop)

Eleuthera (Hilltop)