Learning the culture of the Bahamas while discovering some of the country's staycation gems.
Play the Tru Tru Bahamian Treasure Hunt by simply watching Our TV for clues during programming.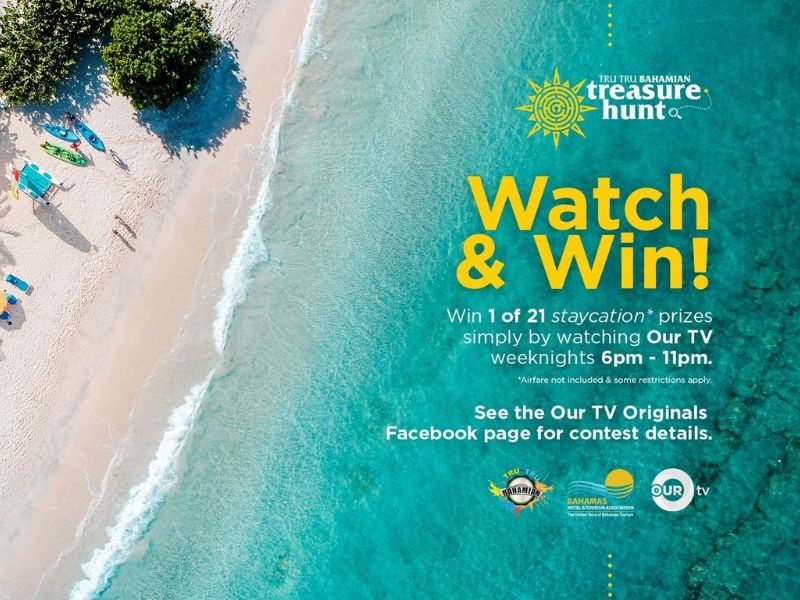 Click here to watch the amazing promo commercial to find out how you can play the Tru True Bahamian Treasure Hunt with OUR TV.
---
THERE ARE FIVE SIMPLE STEPS TO ENTER
1. Watch Our TV (REV channel 212) on weeknights between 6-11pm for ten (10) Tru Tru Bahamian clues.
2. Take note of your answers and clues.  You may see the same clue twice!
3. Follow Our TV Originals on Facebook to submit your correct answers before 11am every Saturday.
4. Watch Our News Saturdays at 7:30pm to see if you are the weekly winner.  Correct answers will be posted on Our TV Originals on Facebook by 9pm on Saturdays.
5. Enjoy your fabulous FREE staycation!
NOTE:  If you didn't win, watch for clues next week . 
Brought to you by Our TV and The Bahamas Tourism and Hotel Association.