Featured Image: Yah Doctrine, Founder of 242 Artist Network
"The 242 Artist Network was formed in 2018 with groups on Whatsapp and Facebook. Other social media platforms developed once we expanded over the years.
PROJECTS
The Nuryz Mixtape, Artjoy Concert Series, Speakfayahself Podcast, and Roots Market; all of
which provide creatives with tangible spaces to earn an income and to present local art to the
community at large. The 242 Artist Network is a movement of creatives dedicated to the
promotion of Bahamian Artists and their global collaborations. We aim to promote Bahamian unity through social media, and working diligently to build the entertainment sector in order to enhance economic growth.
Our ventures include:
● The Speakfayahself Podcast: The 'Speakfayahself' Podcast helps to serve the needs of
the local creative community by providing a platform in which listeners can enjoy
interviews and exclusive Bahamian content from our Visual artists and musicians of
various genres.
● Artjoy Concert Series: As Seen on Tempo Networks; It began as an open mic/live
music showcase at Studio Cafe & Starbucks. It was re-launched in 2020 as a 'quarantine'
live performance event at Bay Teas Bush Tea Gardens in Stapledon Gardens. The
artists: Don Dadda Media, Ju Byron, Bey Chaino, Lyric (Grace Records), Tracy Stubbs (Big Tune Machine), Anku Sara, Bobo Stall, Ubuntu, The Motion Band, Shon Pennerman of Jam Session Band, Zavaan, Evanya, Taye, & Shian.
Artists Featured: Mystro, Bobo Ike, Princess Fire, Yah Doctrine, KAiROS, Honestee,
Guidance, Philandru, Tony Fyah, Rhymes B Authentic & Bahamian Trae.
● Nuryz Mixtape: A collaboration with Lady_Mprez based in Atlanta; founder of The Suntian Nazion. This international mixtape release features hit music from various Bahamian artists and their global collaborations.

● Roots Market:
As seen on ZNS Television; Vendors, performances, art, craft, music, natural
products, food, and drink.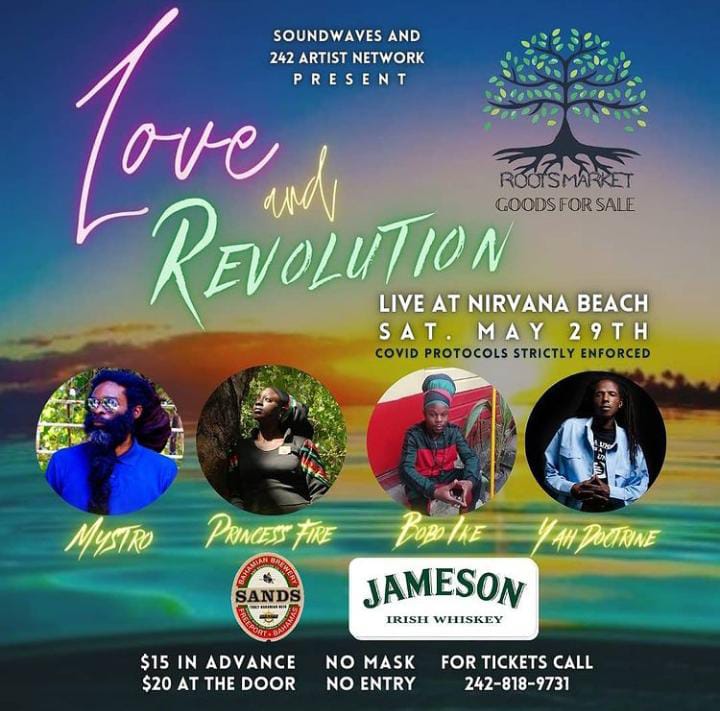 ● Social Media Groups: Facebook, Whatsapp
● Social Media Pages: Instagram, Tik Tok, Youtube, Twitter.
Visit: https://linktr.ee/242artistnetwork to like, comment & subscribe!
Contact Devlyn 'Yah Doctrine' Stubbs at 1-242-818-9731 or 242artistnetwork@gmail.com."
-Yah Doctrine
Coordinator
242 Artist Network
(Excerpt from 242 Artist Press Release)