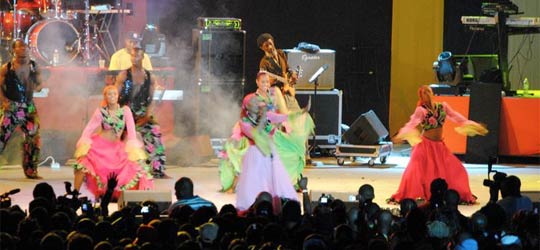 Organisers of the Haynes Smith Miss Caribbean Talented Teen Pageant have announced the confirmed participants for the 32nd marquis event and pageant show for the St Kitts-Nevis Sugar Mas 2011/2012.
The show takes place on December 29 at the Sugar Mill in Warner Park, and the organisers have confirmed 12 countries from around the region including Anguilla – Keivanée  Lake – 16; Antigua – Aalilyah Thomas – 16; Bahamas – Monesha Bowleg – 15; Barbados – Sacha Clarke – 16; Bermuda – Shaunte Simons – 18; BVI – Ashellica Fahie – 16; Grenada – Kande Duncan – 16; Jamaica – Aba Sykes – 18; Nevis -Erica Doras – 17; and St Lucia – Kadijha Mason – 16; St Kitts – Siobhan Phipps 16; and USVI – Bailee Dukes – 14.
According to Chairman and Executive Producer of the Pageant Antonio "Director" Maynard, the pageants organising committee is working hard to maintain the show's extremely high standard and further enhance its status as "the most anticipated, exciting and prestigious pageant show in the Caribbean".
Maynard sees the use of this popular social network as being vital in building the excitement and interest leading to this prestigious event which takes its spot on the list of anticipated events for the Sugar Mas (St Kitts/Nevis National Carnival) 2011/2012. The pageant is slated to take place on December 29 in the Sugar Mill stadium.