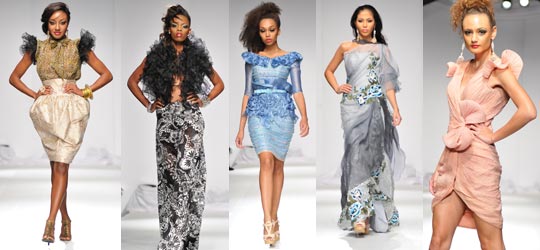 Nassau, Bahamas. 30th October, 2011: With a new brand comes a new team for the world-renowned event, Islands of the World Fashion Showcase (IWFS). Mode Îles, the producer of IWFS, has recruited Indira Lashan Moss, as the Production Manager and driving force behind the now bi-annual showcase.
"Indira has had the opportunity to work with the production of the event in various capacities for the past two years," said Mode Îles CEO, Owen Bethel. "She is a trained and accomplished designer with a passion for the industry and its development."
At 26, Moss has already made a name for herself locally through her label ILashan.
Bethel said that he sees her age as a positive element.
"Her youthful energy will certainly be an asset to the planning process and her creativity and intimate knowledge of what a designer needs to make an effective presentation will be valuable in making the event meaningful for all and executed in a meticulous and inspiring manner."
For Moss, her new role is an exciting opportunity to help push the fashion industry in a positive direction for not only Bahamian designers but designers from all island states around the world.
"It's not going to be an easy task but I will put my best foot forward," she said. "This is a position that I know I'm suited for.
"I see the vision of the company and what it can and will be for the fashion industry here and other island nations. What I hope to accomplish is simply to bring the vision Mode Iles has for IWFS to reality. We have a strong team and we're starting early to prepare for what will be an ongoing cycle of content, events and products so we're looking forward to a very innovative year."
According to Bethel, there are a number of new components to the refined format and production of the event to be staged next year, the details of which will be released in the forthcoming weeks. This now falls under Moss' portfolio.
"The new team headed by Indira will have the mandate to pull all aspects together and make the event appear seamless," he said. "The growth in interest in the award-winning event both at home and internationally has meant that the expectations are high of the shows surpassing those of the past. It is important that the team produces and delivers on the basis of those expectations, but also ensures that the event is progressing to another level which will make both the country and the participants proud."
The Bahamas got its first glimpse of Moss at the annual Heart Ball in 2010, where she presented the Sir Victor Sassoon (Bahamas) Heart Foundation with a life-sized replica of its Red Dress pin. Less than a month later she showcased one of her first collections, Renaissance Women, at 'Pretty in PINK: I'm a Survivor' – a photo exhibition in aid of the Sister Sister (Breast Cancer) Support Group held at the Hilton in February 2010. That April she débuted her first full line at home aptly called Sundial.
Her latest endeavours showcased her talents at the Evolution fashion show in March 2011 which showcased her line, GAIA and most recently, she participated as the official designer for the Bahamas at Sunrise Dream Wedding in September.
A 2008 graduate of Savannah College of Art and Design, Moss delved into the fashion industry from an early age. Raised by seamstresses, she spent her formative years learning to sew among other talents.
Beginning in 2012, IWFS will be presented twice annually in May and November. Each event will be hosted for two days with participation limited to a maximum of twelve designers at each event representing island nations around the world, along with international designers. The event in May will highlight designer resort, sports and swim wear and accessories. November will feature designer couture, prêt-a-porter and casual wear and accessories.
The event will now boast an online magazine, "ExÎles", and an online store, "ExÎles Boutique", both of which will feature designers, arts and crafts, and accessories unique to the global island lifestyle, becoming a major distribution and sales outlet for the creative designs presented at IWFS. The event will also be documented in a six-part reality documentary on the respective countries and designers selected to participate in the Showcase. The documentary will be syndicated to both traditional television and cable networks around the world and specialized fashion trade networks.
Endorsed from its inception in 2008 by the United Nations Educational, Scientific and Cultural Organization (UNESCO), Islands of the World Fashion Week has been successful in fulfilling its mandate of promoting island designers from around the world and exposing them to international media and buyers. Since its inauguration the event has hosted in excess of 70 designers from island-nations as diverse as The Bahamas, Barbados, British Virgin Islands, Cuba, Dominican Republic, Grenada, Fiji, Haiti, Indonesia, Jamaica, Madagascar, The Philippines, St. Lucia, St. Vincent & The Grenadines, Trinidad & Tobago, and Turks & Caicos.