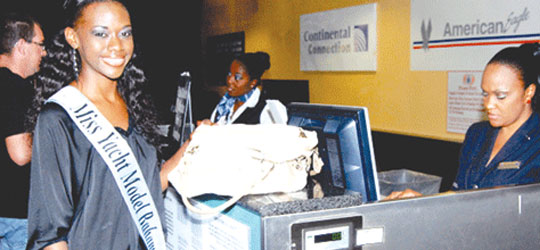 The Miss Grand Bahama Beauty Pageant Organization is doing it again and giving the young ladies in our community a chance to travel the world to represent The Bahamas.
Miss Yacht Model Bahamas, Peandra Knowles is on her way to to China to compete in the Miss Yacht Model International 2011, which starts November 24, 2011 to December 4, 2011 in Haikou, Hainin Island, China.
Knowles left looking the part of Miss Yacht Model Bahamas in long legged boots with a mini skirt with a beautiful matching pullover and a lovely winter jacket for the cold weather she will encounter in China.
On-hand to see her off at the airport was Peandra's mother Annarene Johnson, father Prescott Knowles, friends and family members. Miss Yacht Model Bahamas will be competing in various fashion shows, swimsuits, evening gowns, talent segment, national costume segment (Bahamian Straw Doll designed by EMPRESS, one of Grand Bahama's leading designers). She was presented with a beautiful candle gift for her charity action sponsored by Caleb Outten (Candle Stick).