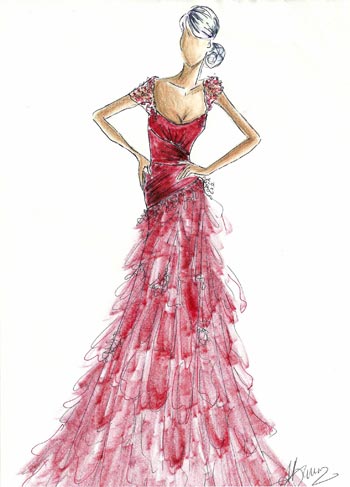 Red Dress Soiree a 'Hot Ticket' for Fashion Enthusiasts Tickets on Sale this Saturday, Bahamas AIDS Foundation To Benefit
Ten of the Bahamas'' 'Leading Ladies' will strut their stuff at the inaugural Red Dress Soiree in just a few weeks. Tickets go on sale this Saturday February 4 for a donation of $100 and can be purchased at La Rose Boutique, West Bay Street and Goodfellow Farms, Mt. Pleasant. The event will be held on Saturday, March 3 at the Sheraton Nassau Beach Resort & Casino.
A selection of local fashion designers have created one-of-a-kind red gowns that will be showcased at the runway show, cocktail reception and silent auction that directly supports the Bahamas AIDS Foundation's work with adolescents affected by and infected with HIV/AIDS.
I encourage everyone to support this fund raising event," stated the Honourable Janet Bostwick, a Red Dress Soiree Leading Lady. "This event is one of the most innovative fund raising schemes I have heard about and it promises to be refreshingly entertaining. Women of varying ages of maturity, at least one of whom (I speak of myself) will find modeling most challenging, and most of whom do not see themselves as stereotype models, coming out of their comfort zones, and taking to the cat walk, displaying beautiful creations of some of our most talented designers!"
The ten 'Leading Ladies' include The Hon. Janet Bostwick, JoAnn Callender, Dr. Sandra Dean-Patterson, Karin Goodfellow, Maria Govan, Janet Johnson, Tanya McCartney, Elaine Pinder, Tonique Williams and Sharon Wilson.
Creating one-of-a-kind gowns for each leading lady will be ten designers including Javotte Bethel, Apryl Burrows, Phylicia Ellis, Sabrina Francis, Brynda Knowles, Patrice Lockhart, duo Cardell McClam and Christopher John, Indira Moss, David Rolle and Theodore Elyette.
Community minded corporate sponsors of the event include Coca Cola, RBC, BOB, The Bahamas Weekly, Mendoza Wine Imports, Primadona, Sage Eden and Media Ink.
"We immediately jumped on board with this program", stated Donnisha Armbrister, Marketing Manager, Caribbean Bottling Co (Bahamas) Ltd. "What better components to drive fund-raising efforts than a worthy cause and fashion?"
The Bahamas AIDS Foundation has recently started to work with adolescents infected  with and affected by HIV and AIDS. Five days a week after school these adolescents are provided with educational tutoring, psychosocial intervention, peer support, job training and placement, a snack and a hot meal, referral services, and individual and group counseling, all of which are directed to enable the adolescents to lead long, productive, healthy lives. The Red Dress Soiree directly supports these efforts.
Source: The Red Dress Soiree