Writer: Mia G
Deemed, queen of the Silk press, Nekita Lightbourne continues to awe her customers with a keen eye for detail and her natural desire to always put her clients first.
Her immaculate service keeps her hair book filled, and a waiting list of clients anxious to be touched by Nekita, downtown at The Nail Lounge.
Nekita is a hair care professional who specializes in healthy hair. While she masters natural hair textures, Nekita also specializes in hair growth treatments, relaxers, perms, Keratin Treatment, and barbering etc.
Her clients would say that she masters every service she offers.
Her vast knowledge of hair makes her one of the Bahamas' top Hair Care professionals.  
What a privilege to get a closer look into the life of this esteemed, Master hairstylist.
We asked Nekita:
B2B: When did you begin your career ? 
NL: I began my career in 2004.
B2B: Where did you study cosmetology?
I studied cosmetology at Manhattan Hairstyling Academy.
B2B: What or who inspired you to become a hairstylist?
NL: My Inspiration came from my ability to be creative and to provide a genuine opportunity to touch the lives of people in more ways than one. As a hairdresser, you can influence your client's social life and shape part of their personality.
B2B: Do you recall your first experience as a professional hairstylist?
NL: Yes I do, I was confident because of great training but still nervous. I'll never forget my first client….She was very sweet, quite a pleasure to work with.
B2B: It makes me happiest when..
NL: When I'm able to be a blessing to someone physically and emotionally.
B2B: It makes me unhappy to know that..
NL: There is so much unnecessary violence among our young people.
B2B: The world would be a much better place if…
NL: If we showed respect for one another and were kinder in our interactions.
B2B: What are your favorite hobbies?
NL: I would say, my favorite hobby is reading an interesting book in my private time and taking care of my plants.
B2B: If you had to spend the rest of your days in one place, where would that be and why?
NL: That place would be Tampa Florida. It gives me an opportunity to spend time with the people who mean a lot to me.
B2B: What is your most famous or favorite quote?
NL: "Be quick to listen, slow to speak and slow to become angry"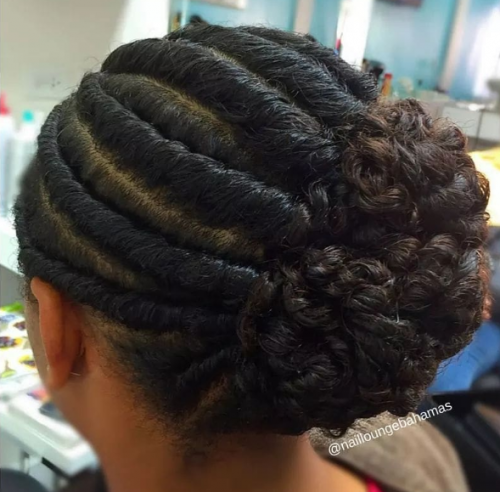 B2B: As a hairstylist, you work many hours on your feet, what motivates you to do what you do?
NL: My motivation comes from the fulfillment, excitement, creativity, and change that comes with working in the beauty industry! When I see that I can make others happy, that brings joy.