If you are looking to find healthy food at a Bahamas restaurant, we can help.
Visit Blue Sail Bar and Grill on W Bay Street, Sandyport in Nassau, Bahamas. Here you will find wood-fire oven cooked pizzas and other Mederratean dishes. You will also be happy to discover a separate fully plant-based menu with lighter, healthy dishes. 
There are three fully plant-based appetizers available at Blue Sail Bar and Grill. Note: The term fully plant-based used here means the dishes do not require any modifications to be free of animal products/ingredients. This is useful to those avoiding meat, dairy and/or eggs or those following a plant-based, vegetarian or vegan diet. 
Tips on how to eat plant-based while dining out. 
The vegan appetizers at Blue Sail Bar and Grill include gazpacho, an arugula and lentils salad with tofu and a quinoa and vegetable salad. As for plant-based main courses, Blue Sail Bar and Grill offers a lentil and hummus plate, a vegetable lasagne and pictured below is the lentil tabbouleh. This dish was served with grilled zucchini and squash with a harissa hummus. It was delicious.
Tasty plant-based options in Nassau, Bahamas are at Blue Sail Bar and Grill. You'll also have the pleasure of enjoying Bahamian cocktails and ocean-front dining. Pictured below is a Goombay Smash with coconut rum, dark rum, apricot brandy with orange and pineapple juice. Make your own delicious Bahamian cocktail.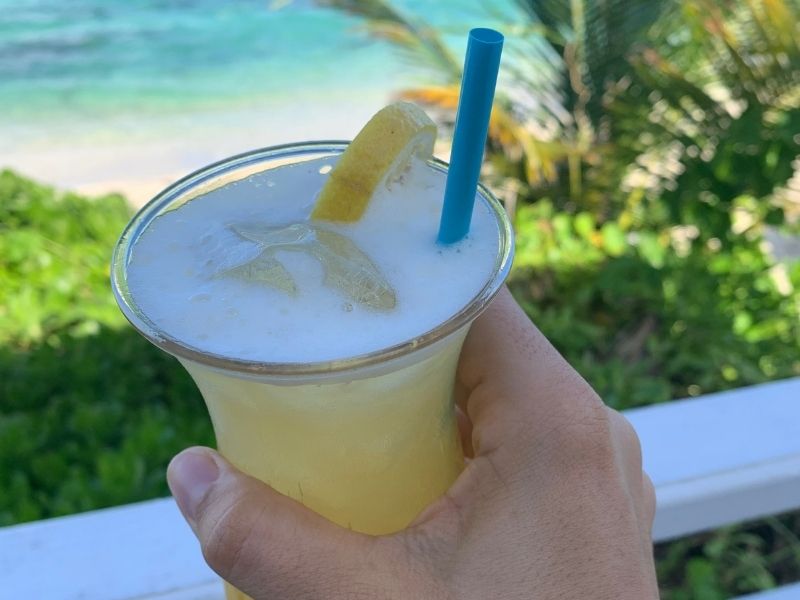 Vegan food in the Bahamas isn't very hard to find! Click here for location and contact information for Blue Sail Bar and Grill.