Slightly sweet banana bread is studded with silky dark chocolate.
Calling all chocolate lovers! This chocolate chunk banana bread is for you.
This banana bread is so simple to prepare. Simply pre-heat your oven while you prepare your dry ingredients in one bowl and your wet ingredients in another.
Choose spotty, really ripe bananas for a perfect natural sweetness. If your bananas are ready before you are, hold them in the refrigerator to halt their ripening. They'll mash and bake up just the same.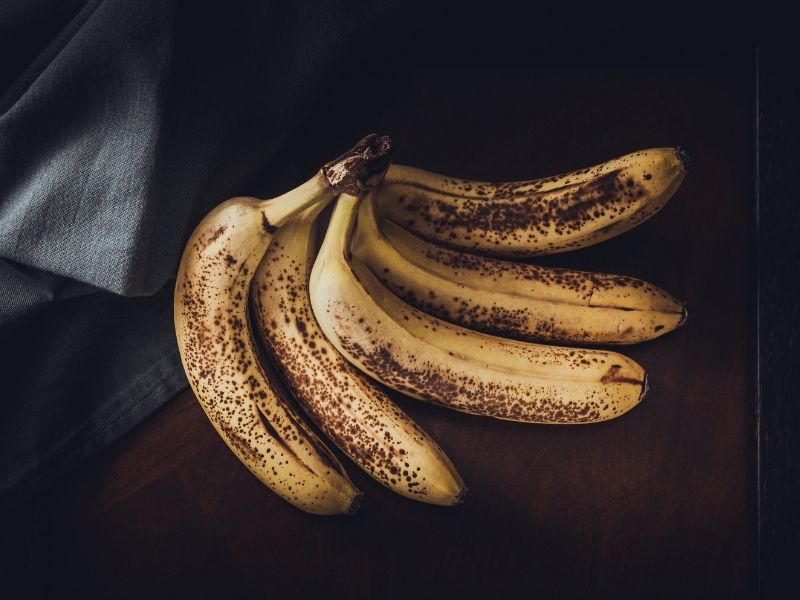 After the banana mixture is just combined with your dry ingredients, it's time to gently fold in the star of the show- the chocolate. For this chocolate chunk banana bread, we're using a heaping cup of roughly chopped chocolate. 
Once your batter is poured into your prepared baking tin, add a few chunks of chocolate to the top of your loaf to give your banana bread a professional bakery touch.
Depending on your pan and oven- baking times will vary but usually takes around an hour. It will be hard, but be sure to let your banana bread cool before slicing. 
Eat immediately topped with a generous pad of butter and a sprinkle of flaky salt!
This recipe calls for vegan butter, milk and chocolate- but feel free to use dairy if you prefer. We do not recommend using gluten free flour or substituting any ingredients. Try this gluten-free banana bread!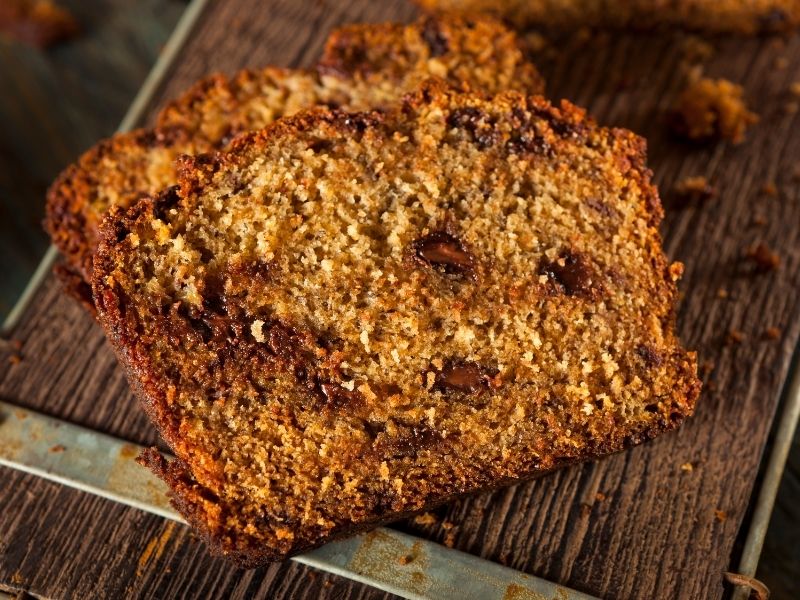 However, feel free to add roughly chopped nuts to this recipe, like walnuts or pecans!
---
Chocolate Chunk Banana Bread
210 g all-purpose flour
75 g pure cane sugar
1 ½ teaspoons baking powder
½ teaspoon baking soda
Pinch of pink salt
75 ml of melted butter (we like this one ​)
1 teaspoon vanilla extract
375-400 g mashed banana (spotty & extra ripe)
¼ cup of milk (if needed, this brand is our favourite)
~1 cup of your favourite chocolate, roughly chopped (we like this one)
Pre-heat oven to 350 degrees and grease your loaf pan well.
Combine flour, sugar, baking powder, baking soda and salt. 
In another bowl, cream mashed banana, butter, vanilla.
Add banana mixture to dry ingredients and mixed until just combined. Be careful not to overmix. If mixture seems too thick, add up to ¼ of milk.
Stir in chopped chocolate.
Bake for 50 minutes to 1 hour, or until a toothpick comes out clean. 
Remove from oven and allow to cool in the pan on a cooling rack for at least 30 minutes.
To store: keep on the counter tightly wrapped for up to 3 days or refrigerate for up to a week.
To reheat: Can be microwaved, heated in toaster oven or air fryer. 
---
Having brunch at home? Try these other decadent breakfast recipes: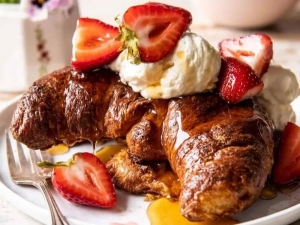 ---
Share your dishes and don't forget to tag us!