Happy International Poke Day! 
September 28 is International Poke Day. Don't worry, this day isn't about going around and getting poked by people. International Poke Day celebrates a classic Hawaiian dish called poke! 
Poke is pronounced "poh-kay" and rhymes with okay. Its origins come from the islands of Hawaii. The word means "chunk" in Hawaiian and refers to the chunks of raw fish used in poke bowls. Traditionally aku (tuna) or octopus was used. These days you can find poke bowls with salmon, shellfish, cooked meats, and even tofu!
Classic poke consists of diced raw fish, sea salt, candlenut, and limu. In case you're wondering, candlenuts are similar to macadamia nuts, and limu is a type of algae or seaweed. Current poke can be very creative. Look for toppings like pickled vegetables, fish eggs, green onions, fried garlic, avocado slices and all kinds of sauces. 
Celebrate International Poke Day by finding a restaurant that serves poke in your area, or try making it yourself! 
We're giving you a simple recipe to get you started. Use fresh, raw sushi-grade fish if you can find it. Mix it up and make it your own by using cooked seafood, grilled meat or crispy tofu. How you top your poke bowl is completely up to you too. Steamed edamame, pickled carrots, crispy onions and spicy mayo are some of our favorites.
---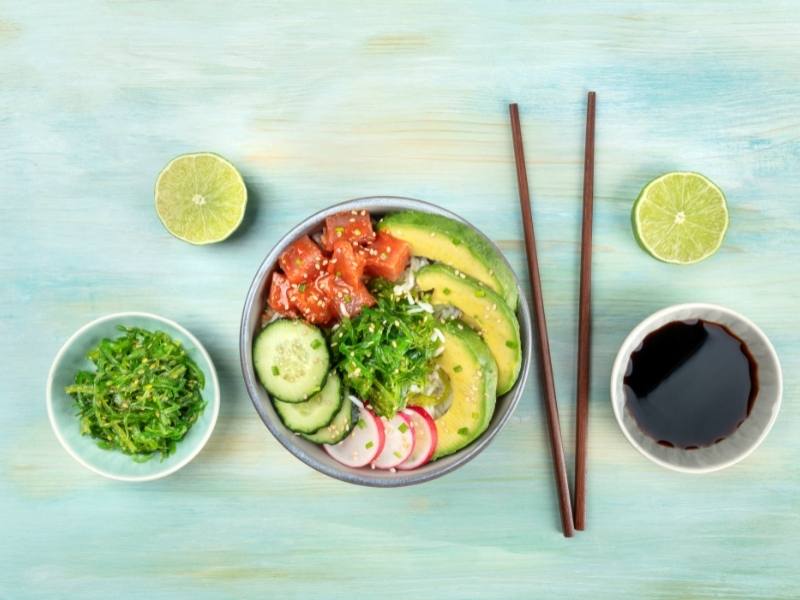 Hawaiian Poke  
Ingredients:
2 pounds fresh seafood or protein of your choice (cubed)
1 cup soy sauce
¾ cup green onions
2 T sesame seed oil
1 T toasted sesame seeds
1 T crushed red pepper (optional)
2 T finely chopped macadamia nuts
Method:
Combine all the ingredients and mix well. Refrigerate for at least 2 hours. 
Enjoy poke over warm sushi rice. Add a sprinkle of t
ogarashi
(Japanese seven spice
) or some chopped nori if desired.
---
Are you enjoying some poke today? Share and tag us on Facebook and Instagram!