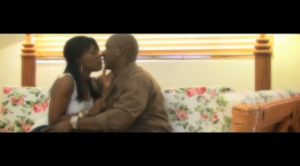 'One', the infectious little ditty released by Bodine "Be" Johnson on BuffBoo Records' Copy Cat Riddim in 2007 is sung by everyone including primary school students and grown fans alike. Now there is a video to accompany it.
There are no club scenes, no cameos, no fancy cars, no glittery jewelry, no dancing. In a nutshell, the first video from BuffBoo Records' recording artist Bodine 'Be' Johnson is not what one would expect but, it is endearing.
'One', the infectious little ditty released on BuffBoo Records' Copy Cat Riddim in 2007 and sung by everyone including primary school students and grown fans alike now has a video to accompany it.
So, there are intimate scenes in the video which can be a bit much for critics, but Bodine is willing to take them on. "For our society, the video is not 'safe' by any definition. I've gotten feedback from my peers whose opinions I respect very much and I agree and disagree with them. However, I'm not afraid to go there. Naturally, I see myself as an artist and an actress. Pushing an envelope is something I take pride in doing and hopefully, as the Arts in The Bahamas continue to grow and flourish, I do hope that we all learn to become more fearless while remaining tasteful".
The feel good tune is depicted in the video with the happy and playful antics of two young children who develop into teenagers and then adults. The relationship with its highs and lows is able to stand the test of time. It is both innocent and intimate. "I wanted to tell the story of the type of relationship that I've always dreamed of. I wanted to portray one where you know the person so well and vice versa it's as though you've been together your entire life, says Bodine of the video.
I enlisted the assistance of a college friend of mine, Amaliko Carroll who owns GIG Video Productions. We sat down, I told him what I wanted, he gave his input and there was the video. It was easy and painless".

"The video features a number of family members and friends. My adult love interest is played by Terrence Missick whom I met at the Buttons Bahamas Bridal Show. He was incredibly dedicated and very natural on screen. It also features cameos by my sisters Ebony and Destiny, a student of mine, Allington Collie, my niece Aryauna and toddler cousin Dericka whose love interest was Manny".
"Budget was very important to me. As a first effort, I didn't need all of the embellishments that many videos may have. I was adamant about simplicity, a good storyline, honesty and of course edginess. I wanted it to look really natural. We did simple, everyday clothing and accessories. I did hair and makeup for myself."
If you were wondering where the video was shot the scenes in the bedroom and living room were shot at Garden of Eden Guest Houses in East Wood Estates. The property is a newly opened, Bahamian owned and operated getaway located in the east. "It's amazing to know how many people are willing to help you when they know you want to do something good. I have to say a special thank you to the owners they let us do what we needed to do and it came out beautifully".
Since its pre-Valentine's day release, One (I LOVE YOU) has been aired on Roots & Culture Television show, featured on BahamasB2B.com, and is being aired on MTV Africa. With 2,000 plus YouTube views since its release, One (I LOVE YOU) shows signs of being a Bahamian Reggae music classic.