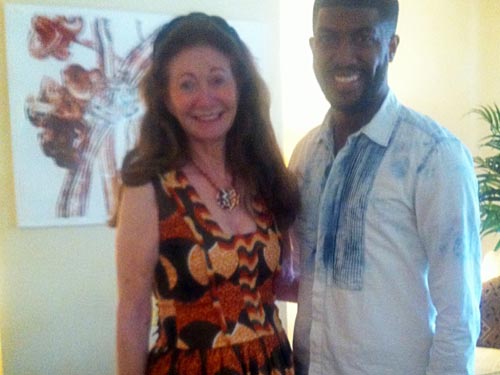 Since setting the bar as the winner of the first Mission Catwalk season three challenge, Bahamian designer Theodore Elyett has been busy constructing replicas of the winning African print summer dress for a growing number of fashion enthusiasts.
In keeping with the season's theme 'Runway to Retail', Elyett quickly translated his catwalk winner into a high-street style coveted by locals and expats alike. The best-selling dress is a potent mix of a bold print with a classic silhouette sought after by 20-somethings to 50-somethings alike, including Mrs. Bernadette Christie, wife of the Prime Minister.
More than six dresses have sold in Jamaica where Mission Catwalk is filmed. Elyett's winning design was the first of the competition to retail at Lee's 5th Avenue in Jamaica, which carries reproduced looks of each week's winning design. An additional five dresses have been sold in New Providence to date.
Constructed of waxed cotton, the garment has a distinct breathable quality ideal for the hot Bahamian summer.
The dress has been worn at weddings, birthday celebrations, fashion events and one in particular was purchased by a client in Montreal to be worn on a cruise this summer.
"From runway-to-retail is every designer's dream, and fortunately for me, after winning the first design challenge on Mission Catwalk, so many doors of opportunity have been opened for me to retail my winning runway design," stated Elyett. "From Lee's 5th Avenue Boutique in Jamaica to the swanky Tanya Saunders Boutique here in The Bahamas, the design has been well received and I'm definitely looking forward to the launch of the summer capsule collection."
The summer capsule collection will consist of 8-10 replicas of the winning African print summer dress design and will retail at the Tanya Saunders Boutique on Marlborough Street. In addition to impressing the judges week after week, Theodore Elyett has stolen the hearts of Mission Catwalk fans securing the coveted 'fan favourite' title for five consecutive weeks.
The fashion design competition which premiered with 15 designers from around the Caribbean on April 13, now has 8 designers remaining, 2 of whom are Bahamian. The eleven-week series will culminate with a showdown between the top three remaining designers all vying for the opportunity to show a collection at London Fashion Week.
Tune in to Mission Catwalk Saturdays at 9:30 pm and Wednesdays at 8:30 pm on Cable 12.
Submitted By Fusion IMC
Caption:  Local fashion enthusiasts commission Elyett for customized replicas of the winning African print Summer Dress.