Since arriving in Las Vegas ten days ago, Celeste Marshall has cemented her billing as a favorite for the title of Miss Universe 2012, thanks in no small part to the help of generous local and international sponsors who have outfitted her for the competition of a lifetime.
A $12,000 couture Eduardo de las Casas evening gown; two kaftans designed by celebrity favorite Camilla of Australia; a pair of newly released Fendi sunglasses; and a $5000 smile… all part of the arsenal that Miss Universe Bahamas Celeste Marshall has taken to Las Vegas, Nevada in her quest to become the first Bahamian woman to become a finalist (and ultimately the winner) of the Miss Universe competition. The statuesque beauty has been preparing for months for her moment in the spotlight, and she has received a lot of help along the way from a long list of sponsors.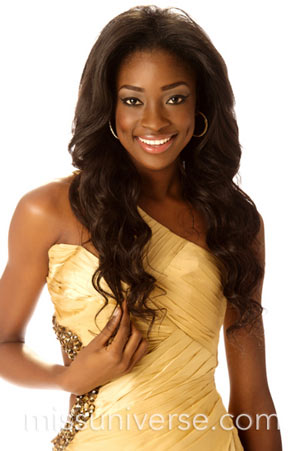 Topping the list is the Ashley Lauren Kerr group, consisting of designer Eduardo de las Casas, pageant coach Grace Fontecha, make-up artist/instructor Noel Garcia, and stylist Ashley Lauren. The group's contribution to her preparations exceeded the $30,000 mark, and included two couture evening gowns; 2 weeks of private lessons with Guinness World Records recognized pageant coach Fontecha; make-up application and hair styling lessons; fashion tips; and a two week all-inclusive stay at a beach front home in Maine during her training. Kerr believes the investment was worth it. "Celeste's beauty combined with her training can take her to the top," she says. "I hope that is in her destiny because she has worked very hard preparing and I know she wants it; not only for herself, but for the Bahamas too."
Much of the support for Celeste came from here at home. Those who generously gave included:
Diamonds International – Fine Jewelry
Bahamas Orthodontic Center – Braces/Teeth whitening
Escape Boutique at The Cove – Assorted clothing and accessories
Coles of Nassau – Camilla of Australia kaftan, Jovani dress
Wedded Bliss – Evening gown
BTC – Iphone & data plan
MBO – Assorted clothing and shoes
The Luggage Store
Boojie Bijoux – Costume Jewelry
Imperial Optical – Fendi sunglasses
The Shoe Village – Assorted shoes
All Yours Remy Hair – Hair products
Eye Candy Make-up Store – Cosmetics
Obsession – Assorted clothing
Lorene's – Sleepwear
La Casita – Camari designer sisal/straw clutch (auction gift)
Nassau Gals – Assorted clothing
Solomon's Mines – watches
Cia Monet – Herve Leger dresses
D-Factor – Hair styling services
Nail Taxi Bahamas – Manicure/Pedicure
The Pilates Studio at Atlantis – Pilates classes
Celeste also received private donations from the Thompson, Marshall, Dames, and Williams families. Her national costume – which MBO officials describe as a very modern take on an era of Bahamian history – depicts a swashbuckling buccaneer and will be unveiled in Las Vegas during the Miss Universe national costume event on December 14th. The preliminary competition is scheduled for December 13th. Both will be streamed live via the internet at www.missuniverse.com.
Celeste's popularity has spread worldwide, securing her a spot among the pageant's pre arrival favorites – thanks in no small part to the well-oiled PR machine known as the DS3 group headed by PJ Douglas Sands. The group recently partnered with the Miss Bahamas Organization to handle the branding of its queens and its social media outreach. DS3 was the mastermind behind the popular "follow the crown" vlogs which have chronicled Celeste's journey to the Miss Universe pageant for a growing number of followers    on    facebook,    twitter,    instagram,    tumblr,    and    her    own    personal    website diradiocast.com/dinmn/celestem242/.
The Miss Universe Pageant will be broadcast live on NBC on December 19th at 8 p.m. The Miss Universe Organization is once again allowing the public to choose one of its semi-finalists via online voting from now until the voting closes on December 18 and 6p.m.    Anyone located in, and a legal resident of, the Bahamas can cast their vote(s) for Celeste by logging onto www.missuniverse.com or telemundo.com, and following the instructions to vote and enter registration details. To register you will need to provide your email address, confirm you are 16 years of age or older, and confirm your acceptance of the voting terms and conditions. After you register, you should rank Celeste as a "10".    If done correctly, you will get a message on your screen. You can vote up to 10 times per e-mail address per day. Voting is free. The results may be revealed to the home viewing audience during the live telecast and may be posted on www.missuniverse.com after the show.
Submitted by The Miss Bahamas Organization
Top Photo: Celeste Marshall 3rd from right