Everyone knows the Bahamas for its year-round sun, brilliantly clear blue
waters and powder-soft white sand. These natural wonders are no secret and
provide enough of a reason to keep multitudes of visitors flocking to the
islands. But that isn't all there is to see. There are many off-the-beaten path
but extraordinary sites that are unique to the islands of the Bahamas.
The Wild Horses of Abaco
Where these beautiful horses came from is open to debate but many believe
they are of Spanish Colonial lineage. At one time these horses ran in a mighty
herd of hundreds but today they are considered the world's most endangered breed
with only a mere handful remaining. They are known as the Abaco barbs and are
strong in stature with long flowing manes, a rare but treasured sight to behold.
Tongue of the Ocean
The Tongue of the Ocean rests just a few miles off the east coast of Andros
and it is known as the world's greatest geologic oddity. This underwater canyon
drops precipitously more than 6,000 feet down and is flanked by dramatically
shallow waters. It is about 120 miles long and forms the edge of the third
largest great barrier reef in the world.
The Glass Window Bridge
Though it is currently in need of a major overhaul, the glass window bridge
located near Gregory Town in North Eleuthera, is an impressive sight. It was
orginally an extraordinary natural rock arch but after decades of storms it has
now been replaced by a man-made bridge. Sometimes referred to as the narrowest
place on earth, it is a unique and magnificent spot where the deep dark blue
Atlantic ocean meets the shallow aquamarine Caribbean Sea with dramatic
contrast.
Bimini Wall
Sometimes called the Bimini Road this is an underwater rock formation which
some scientists argue could be remnants from the lost city of Atlantis. The
roughly rectangular rocks which resemble an ancient road or wall, hence the
name, rest in the waters near North Bimini and stretch about a half a mile. The
formation is completely unique to this one spot in the world.
Dean's Blue Hole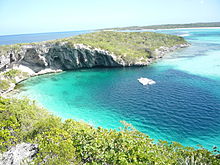 Scientists have marveled at the "swiss-cheese" foundation of the Bahamas
islands which harbour countless blue holes. Plunging down over 600 feet Dean's
Blue Hole in Long island stands out among them because it is the deepest sea
water blue hole in the world, and one that has attracted many divers.
Underwater Caves
The Lucayan National Park in Grand Bahama encompasses one of the
longest-known underwater limestone cave systems in the world. The system spans
more than six miles of caverns and tunnels