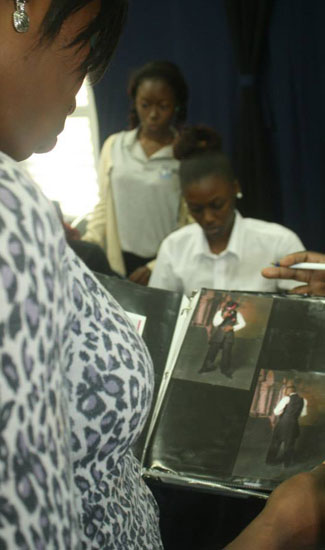 With the technologically-savvy era we live in, Fashion Design students were told recently that the world is their market.
President of the Montaque Group and Creator of Islands of the World Fashion Week, Owen Bethel, was a panelist at a Fashion Forum held at The Bahamas Technical and Vocational Institute and emphasized the importance of thinking globally.
"Don't limit yourselves to The Bahamas.  Your competition is also the world.  Draw a bridge between what you're learning and where you want to go," he said.
Noting there will be disappointments and rejections along the way, Mr. Bethel who is also a member of BTVI's Program Advisory Committee (PAC) emphasized that they should be viewed as lessons.
Mr. Bethel emphasized to the aspiring fashion designers the significance of utilizing social media as a marketing tool.  "In this modern day, you have the means to get your product out there.  It's the greatest marketing tool to have.  You can't be intimidated by it. You have to use it," he urged.
The interactive forum's other panelists included fashion designer and former BTVI student, Kevin Evans along with Executive Director of Junior Achievement, Philip Simon. Under the theme, "Passion for Fashion," they discussed several topics such as pricing, networking and marketing.
Mr. Simon noted that market research is important; meanwhile he emphasized fundamental aspects of business including honesty, reliability and punctuality.
Additionally, Mr. Evans – who owns the Kevin Evans Collection – was one of the top three fashion designers in the Miami RAWards semi-final competition in November 2013.  He believes more students can emerge from BTVI's fashion program and experience the success he has.
"They must overcome their fears.  I want them to build their confidence.  They must break that barrier, even if they start with family members and then friends. They must believe in their work," said the fashion designer who sewed his first garment for his grandfather.
Student, Krystle Murphy said how "inspired" she was by the work of Mr. Evans which he brought with him.  "I can take my dream further.  The information helped to encourage me and will help me to stay driven," she stated.
Another student, Lanova Lotmore said the exposure has caused her to re-think her position about participating in fashion shows.  "I didn't want to be in fashion shows, but the forum has pushed me to do so," she said.
Lanova went on to credit BTVI's fashion department – headed by Shirley Pearson – for her quest for perfection. "I am very detail-oriented and I was taught that here at BTVI.  The inside needs to be just as good as the outside," said the student who first sewed a glasses case for her mom at the age of four.
Taking a refresher course in fashion design at BTVI, Ann Bease who is a custom bra maker too expressed how impressed she was with Mr. Evans' work, but also about the business tips the panelists shared.
"Students already have the fashion side, but if you don't have a business sense, you're doomed to fail.  It was more than I expected and it related to our program.  It was very informative, especially the business-side of it," said Ms. Bease.

The Bahamas Technical and Vocational Institute (BTVI)
Captions:
Fashion designer, Kevin Evans, owner of the Kevin Evans Collection, shows off one of his designs to a BTVI fashion design student.
A BTVI fashion design student views the portfolio of fashion designer and former BTVI student, Kevin Evans
Attendees of the Fashion Forum view the intricate design of fashion designer and former BTVI student, Kevin Evans
Islands of the World Fashion Week creator, Owen Bethel, takes time to chat with BTVI fashion design students following the institution's fashion forum.
BTVI fashion design students view the portfolio of fashion designer Kevin Evans